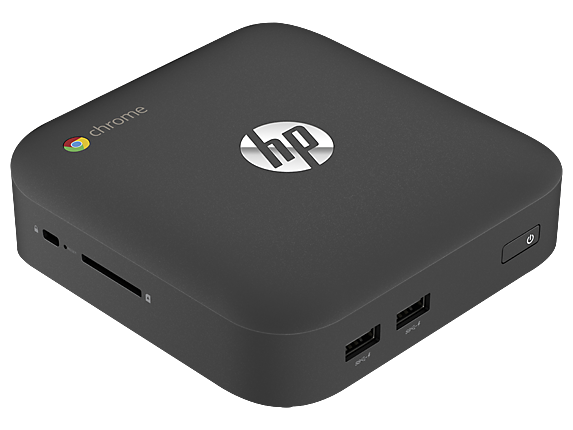 HP Chromebox
(J4C95AA)
Product may not be available direct from HP currently
Special offer:
Special offers:
Boost productivity in the office with the affordable and easy to manage HP Chromebox. Get easy access to data and effortless collaboration with your team using cloud based Google Apps for Business.
Build a more effective office with the affordable HP Chromebox. Fast start-up and browsing,1 plus access to cloud-based productivity apps and storage help keep you and your business productive.
Access email, create documents, edit presentations, and video conference with Google Apps. Keep all your projects in focus with the Chrome Web Store and customize your HP Chromebox with the latest apps, tools, extensions and themes.2
Get teams together from across town or from all over the world using optional Google Chromebox for meetings.3
Enjoy fast reliable wireless connections with built-in Wi-Fi and Bluetooth® wireless technology.5
Free up your workspaces with the impressively small, contoured, and sleek design of the HP Chromebox. At just 126 mm x 124 mm x 39 mm it fits almost anywhere.
Easily attach your HP Chromebox behind a display or secure it to any flat surface using the integrated VESA mount.6
Make mounting and securing your HP Chromebox easier with the HP Quick Release Mounting Bracket.2
A verified end-to-end boot process deters attacks, to help keep your data safe.
Access the web and apps with confidence. Chrome OS™ provides a maintenance free experience with automatic software updates of apps, calendar events, email and messages.5
Google's optional management console2 is an easy to use online management tool that can be used to deploy, track, and manage all the HP Chromebox units in your fleet.
Dual Monitor capability through HDMI and DisplayPort.
Form factor:

Mini

Environmental:

Memory slots:

2 SODIMM

Ports

1 HDMI
1 DisplayPort
4 USB 3.0
1 microphone/headphone jack
1 power connector
1 RJ-45

Expansion slots

Power supply:

65 W 85% efficient, 100-240 V 50-60 Hz (external)

 

Dimensions (W x D x H)

12.6 x 12.4 x 3.9 cm (4.96 x 4.88 x 1.53 in)
(System dimensions may fluctuate due to configuration and manufacturing variances)

Weight

0.63 kg (1.39 lb)
(System weight may fluctuate due to configuration and manufacturing variances)

Security management:

HP Universal Security Slot
HP UltraSlim Cable Lock (optional)
Screw-type write protection switch
Chrome OS recovery switch

Warranty:

HP Services offers limited 1-year warranty options depending on country. On-site service and warranty upgrades are also available. HP Care Pack Services extend service contracts beyond the standard warranties. Service levels and response times for HP Care Packs may vary depending on your geographic location. Restrictions and limitations apply. Service starts at date of hardware purchase. For details, visit www.hp.com/go/cpc.
Rate & Review HP Chromebox

 

(0.0 average / 0 RATINGS / 0 RECOMMENDS)

Your review has been submitted. Please note that your review may need to be reviewed and may not post immediately Sorry, your review can't be submitted. Please, try again later. rate & write a review
Hide Form
Not all features are available in all editions or versions of Windows. Systems may require upgraded and/or separately purchased hardware, drivers and/or software to take full advantage of Windows functionality. See

http://www.microsoft.com

.

Not all Windows features may be available when updating/upgrading from Windows 8 PCs. Your system may require additional hardware, drivers, software, firmware, and/or a BIOS update. Upgrading between versions, e.g. non-Pro to Pro and Media Center will incur additional fees. For complete update details, see

www.windows.com/everywhere

for details.

Some apps sold separately; vary by market. Some features require Windows 8.1 Update. For Windows 8 devices, the update is available through Windows Store. For Windows 8.1 devices, the update is available through Windows Update. Internet access required; fees may apply. Power button available on select devices and may not be on device shown.