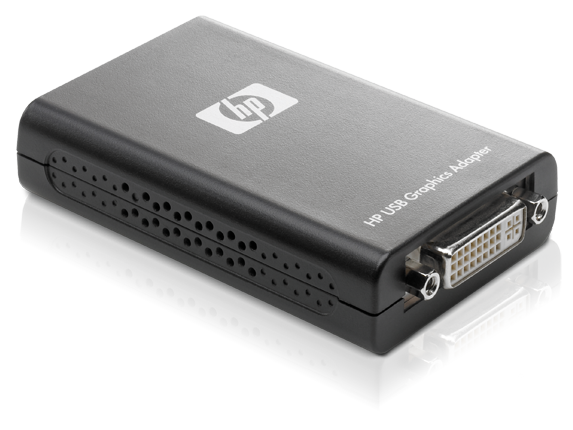 Graphics Connectors/Adapters
HP USB Graphics Adapter
(NL571AA)
Product may not be available direct from HP currently
Special offer:
Special offers:
Overview
HP USB Graphics Adapter
Features
Office: View large spreadsheets across two screens or multitask without overlapping windows
On the road flexibility: Enable multiple screen presentations from one PC
Graphics houses: Use a second display for palettes or tools or a panoramic view of large documents
Editing: Edit documents on one screen and reference data on another; compare multiple documents simultaneously
Financial: Use one monitor for each data stream
Specifications

Weight

:

231.33 g

Minimum dimensions (W x D x H)

:

1.8 x 5.4 x 8.4 cm

What's in the box

:

HP USB Graphics Adapter, USB Cable, DVI to VGA Adapter, Driver and Documentation CD, Quick Installation Guide

Warranty

:

Your Option Limited Warranty is a one (1) year (HP Option Limited Warranty Period) parts replacement warranty on any HP-branded or Compaq-branded options (HP Options). If your HP Option is installed in an HP Hardware Product, HP may provide warranty service either for the HP Option Limited Warranty Period or the remaining Limited Warranty Period of the HP Hardware Product in which the HP Option is being installed, whichever period is the longer but not to exceed three (3) years from the date you purchased the HP Option.


*Internet Price is the price for online purchases direct from HP Canada. Product currently not sold online may be purchased from a HP authorized retailer. In this case, Internet Price is a suggested resale price. Your retailer may sell for less.