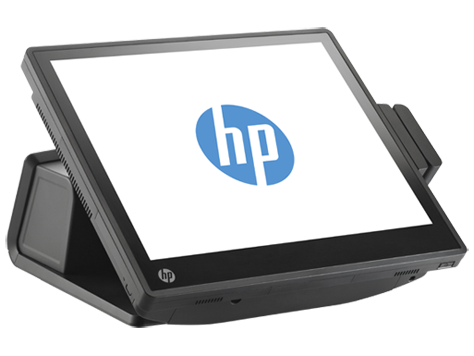 Point of Sale (POS) Systems
HP RP7 Retail System Model 7800
(C9K45UA)
Product may not be available direct from HP currently
Special offer:
Special offers:
Get ready for the next-generation all-in-one retail solution from HP. Sleek, stylish, and able to effortlessly integrate into your current environment, the HP RP7 Retail System can be customized for everything you need and nothing you don't.
Impressive everywhere you look.
Enhance your store image with the modern, space-saving HP RP7, which has all the capabilities of a traditional retail solution and a sleek design that effortlessly fits into retail and hospitality environments.
Sleek, flush-bezel edges make this an appealing self-service kiosk that will attract attention and that your employees can't wait to use.
Versatility to meet your needs.
Quickly and easily position the HP RP7 on a table or counter for wider viewing angles with the HP RP7 Adjustable Stand, featuring tilt/height adjustability and a unique dual-hinge design.1
Use it on a counter or mounted on a wall (mounting hardware sold separately); the unique dual-hinge base supports adjustable tilt and height for maximum comfort.
Customize the exact combination of peripherals you need with convenient connection points on all four sides of the display.1,2
Enhance your retail environment with easy-to-connect solutions, including the HP Retail Integrated Fingerprint Reader, HP Retail Integrated Dual-Head MSR, HP Retail Integrated Webcam, and the new HP Retail Integrated Barcode Scanner.1,2
Select a 15-inch or 17-inch diagonal display, and then customize it with intuitive and familiar projected capacitive touch technology or the flexible navigation features of resistive touchscreen.3
Add a sharp customer-facing display. The HP RP7 10.4-inch CFD Display (B0T22AV) is perfect for additional advertising and promotional opportunities. The HP RP7 VFD Customer Display (B0T26AV) offers easy-to-read price and product information.1
Available Microsoft Windows 7, Microsoft POSReady 7, Microsoft Windows 8.1 Pro 64 bit or Microsoft Windows Embedded 8.1 Industry Pro Retail 64-bit operating systems integrate seamlessly with your current retail applications.8
Exceptionally durable and retail-ready.
The HP RP7 is retail-hardened for use in ambient environments up to 40°C. The steel chassis, on-board monitoring and alerts, and environmental and shock testing stand up to the long term wear and tear of retail environments.
The extended product lifecycle helps ensure consistency in your install base, and the standard, three-year limited warranty on the entire solution gives you peace of mind about your investment.4
Performance you can trust.
Quad-core 2nd Generation Intel® Core™ processors with Intel® vPro™ Technology (select configurations) deliver hardware-based remote management technologies and a stable, very secure, and reliable IT infrastructure.5,6
DDR3 RAM technology helps ensure fast application loading and toggling between open windows. Choose up to two hard drives or solid state drives with RAID capabilities.
Support your current legacy and future technology requirements with a wide range of inputs include Ethernet7, USB 2.0, and serial ports.
Operating system:

Windows® 7 Professional 32

Processor:

Intel® Core™ i3-2120 with Intel HD Graphics 2000 (3.30 GHz, 3 MB cache, 2 cores)

Chipset:

Intel® Q67 Express

Form factor:

All-in-one

Environmental:

Memory, standard

Memory slots:

2 SODIMM

Internal drive bays:

Two 2.5"

Hard drive description:

320 GB 7200 rpm SATA

Graphics

Integrated Intel HD Graphics Basic and 2000

Ports

6 USB 2.0
2 USB+PWR 12V
1 USB+PWR 24V
1 USB in lockable compartment
1 RJ-12 (cash drawer)
2 RS-232 (powered)
1 parallel
1 PS/2
1 DVI-I
1 RJ-45
1 audio in
1 audio out
1 DC in
1 DC out
4 USB connectors (for select HP integrated peripherals)

Display:

17" Projected Capacitive (1280 x 1024 resolution)

Audio:

Integrated high-definition audio with Realtek ALC261 codec, multi-streaming sound capabilities, SRS Premium Sound technology and dual internal speakers (standard)

Network interface

10/100/1000

Energy efficiency:

Power:

External 180W, 87% efficient, active PFC

Operating temperature range:

10 to 40°C

Operating humidity range:

20% to 85% RH

Dimensions (W x D x H)

With 15" display: 36.6 x 42.4 x 33.58 cm; With 17" display: 38.6 x 43.07 x 34.72 cm (With 15" display: 14.41 x 16.7 x 13.22 in; With 17" display: 15.19 x 16.95 x 13.67 in)
(With stand)

Weight

Starting at 6.25 kg (Starting at 13.78 lb)
(Exact weight depends on configuration)

Security management:

Kensington lock and padlock loop

Warranty:

Protected by HP Services, including a 3-year parts, 3 years labour, and 3 years onsite service (3/3/3) limited warranty; Terms and conditions vary by country; Certain restrictions and exclusions apply.
Rate & Review HP RP7 Retail System Model 7800

 

(0.0 average / 0 RATINGS / 0 RECOMMENDS)

Your review has been submitted. Please note that your review may need to be reviewed and may not post immediately Sorry, your review can't be submitted. Please, try again later. rate & write a review
Hide Form
Not all features are available in all editions or versions of Windows. Systems may require upgraded and/or separately purchased hardware, drivers and/or software to take full advantage of Windows functionality. See

http://www.microsoft.com

.

Not all Windows features may be available when updating/upgrading from Windows 8 PCs. Your system may require additional hardware, drivers, software, firmware, and/or a BIOS update. Upgrading between versions, e.g. non-Pro to Pro and Media Center will incur additional fees. For complete update details, see

www.windows.com/everywhere

for details.

Some apps sold separately; vary by market. Some features require Windows 8.1 Update. For Windows 8 devices, the update is available through Windows Store. For Windows 8.1 devices, the update is available through Windows Update. Internet access required; fees may apply. Power button available on select devices and may not be on device shown.