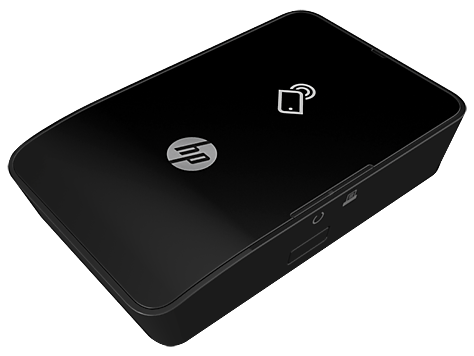 HP 1200w NFC/Wireless Mobile Print Accessory
(E5K46A)
Product may not be available direct from HP currently
Special offer:
Special offers:
Help mobile device users print wirelessly without searching for a printer or accessing the company network. Enable wireless printing with touch-to-print convenience from NFC-capable devices or through a secure peer-to-peer connection.1,2,3
Simplifying wireless printing from mobile devices. Make your HP printers wireless, using the HP Mobile Print Accessory with USB installation.1,2,3
Features
Make wireless printing easy for everyone in your office—no need for a router or network connection.2
Enable secure wireless printing from smartphones, tablets, and laptops, using a direct wireless connection.2
Mobile printing at a touch
Give smartphone and tablet users touch-to-print convenience through a peer-to-peer connection.3
Allow NFC-capable smartphone and tablet users to print by touching their device to the HP Mobile Print Accessory.3
Get up and running fast. Simply attach the HP Mobile Print Accessory though a USB port on the printer or MFP.
Easily connect smartphone, tablet or laptop users to your office printers or MFPs.
Enable secure wireless direct printing and touch-to-print from NFC-capable devices.2
Help safeguard your network—allow mobile device users to print without accessing the company network.3
Network types:

Ports:

USB 2.0 type A (host) & type B (device)

Print server type:

External

Security management:

Supports WPA-2 security with customer selected passphrase

Network upgradeable firmware:

Yes

Memory

Flash memory:128 MB
Standard memory:128 MB

Compatible Operating Systems:

Android 2.3.3 to 2.3.7, 3.2, 4.0.3, 4.0.4, 4.1.x, 4.2.x, 4.3.x, 4.4, iOS (Apple), Windows Vista, Windows Vista x64, Windows 7, Windows 7 x64, Windows 8, Windows 8 x64, Mac OS X v 10.6 and OS X Lion

Printer Management:

Embedded Web Server

Embedded web server:

Yes

EPP and ECP supported:

No

Print job buffering supported:

Yes

IPP supported:

Yes

Browser supported:

Windows: Internet Explorer 6.0 or higher, Chrome, FireFox 2.x or higher
Mac OSX: Safari
IOS: Mobile Safari from OS
Android: Chrome

Printer supported:

HP Mono LaserJet Printer: Pro M401 series, P1000 series, Pro P1100 series, Pro P1560 series, Pro P1606 series, P2035 series, P2055 series, P3015 series, P4014 series, P4015 series, P4510 series
HP Color LaserJet Printer: CP1210 series, CP1510 series, CP2025 series, CP3520 series, CP4000 series, CP5520 series, CP6000 series, M750 series, Pro M200 series, Pro M300 series, Pro CP1025 series, Pro CP1525 series
HP Color Multifunctional LaserJet Printer: MFP CM1312 series, MFP CM2320 series, MFP CM3530 series, MFP CM4540 series, MFP CM6040 series, MFP CM6030 series, Pro MFP M100 series, Pro MFP M20 series, Pro MFP M300 series, Pro MFP CM1410 series
HP Mono Multifunction LaserJet Printer: MFP CM1100 series, Pro MFP M1200 series, MFP M1300 series, Pro MFP M1500 series, MFP M4300 series, MFP M4500 series, MFP M9000 series, Pro MFP M100 series, HP OfficeJet Printer: OfficeJet 100, OfficeJet 150, HP OfficeJet Pro Printer: OfficeJet Pro X400 series, OfficeJet Pro MFP X400 series, OfficeJet Pro X500 series

 

Dimensions (W x D x H)

67.5 x 111.2 x 27.5 mm (2.67 x 4.38 x 1.08 in)

 

Weight

0.08 kg  (0.17 lb )

Warranty:

One-year; limited warranty; product exchange

What's in the box:

HP 1200w NFC/Wireless Mobile Print Accessory
Power adapter
Power adapter plug
USB cable
Install Guide
Japan Warranty card (for #ACF option)
Latin America Warranty card (for LA options)
China Warranty card (for #AB2 option)

Software included:

AirPrint™ 1.3
1.4
Android Mopria 1.1.3
HP ePrint App v2.4 for Android
HP ePrint App v5.4.1 for iOS
HP ePrint Mobile driver v4.7 for Windows
Rate & Review HP 1200w NFC/Wireless Mobile Print Accessory

 

(0.0 average / 0 RATINGS / 0 RECOMMENDS)

Your review has been submitted. Please note that your review may need to be reviewed and may not post immediately Sorry, your review can't be submitted. Please, try again later. rate & write a review
Hide Form
© Copyright 2018 HP Development Company, L.P.