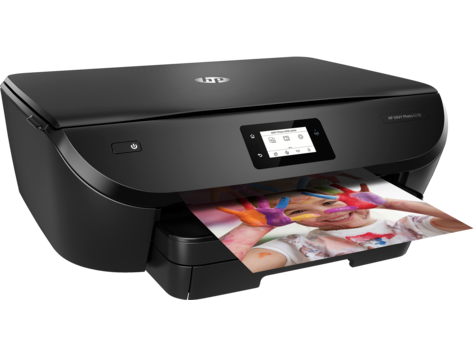 All-in-One-printere til dokumenter og fotos
HP ENVY Photo 6230 All-in-One-printer
(K7G25B)
Specialtilbud:
Specialtilbud:
Virkelighedstro fotos og større fleksibilitet. Du kan skabe autentiske farver og konfigurere, oprette forbindelseog udskrive direkte fra din mobilenhed.1 Udskriv, scan og kopiér uden besvær.
Dynamisk printer med aktive sikkerhedsfunktioner. Beregnet til brug med patroner, der har originale elektroniske HP-kredsløb. Patroner med ændrede elektroniske kredsløb eller med kredsløb, der ikke er fra HP, kan muligvis ikke bruges, og selvom de virker i dag, er det ikke sikkert, at de virker i fremtiden.
http://www.hp.com/go/learnaboutsupplies
Funktioner
Spar op til 70 % på blæk med HP Instant Ink2
Udskriv i farve eller sort-hvid – også fotos. Din pris er den samme.
Blækpatroner og leveringsomkostninger er inkluderet i prisen for dit månedlige abonnement.
Ingen årlige gebyrer – du kan ændre eller annullere abonnementer online når som helst uden ekstra omkostninger.4
Printerkraft i din hule hånd
Udskrivning af fotos er lige blevet nemmere – fra sociale medier, skyen og kamerarullen på dit kamera.5
Fantastisk scanning – nu på din smartphone. Scan og del til e-mail eller skyen – fra næsten hvor som helst.5
Det har aldrig været lettere at bestille blæk – direkte igennem appen.5
Udskriv nemt fotos og hverdagsdokumenter fra din smartphone eller tablet-pc.1
Et nyt niveau for trådløse forbindelser, du kan stole på
Enkel Wi-Fi®-konfiguration på få minutter, så du hurtigt kan komme i gang med at udskrive.6
Med den stabile dual band Wi-Fi®-ydeevne kan du stole på forbindelsen.7
HP's mest alsidige printer til hjemmet
Hurtig udskrivning, kopiering og scanning, så opgaverne holdes i gang.
De dedikerede papirbakker matcher automatisk udskriftsindstillingerne med papirtypen.
Du kan hurtigt klare udskriftsopgaver med flere sider med automatisk dobbeltsidet udskrivning.
Opret tidsbesparende genveje, og udskriv, kopiér og scan nemt direkte til printeren.
Funktioner:

Udskrivning, scanning, kopiering, web, foto

Understøtter multitasking:

Ja

Udskrivningshastighed, sort-hvid:

ISO: Op til 13 sider/min.
Kladde: Op til 22 sider/min.

Udskrivningshastighed, farve:

ISO:Op til 8 sider/min.
Kladde:Op til 21 sider/min.

Første side (klar)

Sort: På kun 16 sek.
Farve: På kun 18 sek. 4

Driftscyklus (pr. måned, A4)

Op til 1.000 sider
(Normeret forbrug defineres som det maksimale antal sider pr. måned. Denne værdi angiver produktrobusthed i forhold til andre HP LaserJet eller HP Color LaserJet produkter og er med til at sikre, at man benytter de printere og MFP'er, der passer til brugernes eller gruppernes behov.)

Anbefalet antal sider pr. måned

300 til 400
(HP anbefaler, at antallet af udskrevne sider pr. måned holdes inden for det angivne interval af hensyn til ydelsen – baseret på faktorer, der omfatter bl.a. udskiftning af forbrugsvarer)

Udskrivningsteknologi:

HP termisk inkjet

Medfølgende printerdrivere:

Udskriftskvalitet (bedst)

Farve: Optimerede farver med op til 4800 x 1200 dpi (ved udskrivning fra computer på udvalgt HP-fotopapir og udskrivning med maksimal dpi)
Sort: Op til 1200 x 1200 dpi-ækvivalent (ved print fra computer)

Skærm:

Kapacitiv berøringsskærm på 2,2" med sort-hvid grafik

Processorhastighed:

1,2 GHz

Antal printpatroner:

2: 1 sort, 1 trefarvet (cyan, magenta, gul)

Automatisk papirføler:

Ja

Instant Ink

Nye patroner

HP 303-blækpatron i sort (ca. 200 sider) T6N02AE
HP 303-blækpatron i tre farver (ca. 165 sider) T6N01AE
HP 303XL-blækpatron i sort (ca. 600 sider) T6N04AE
HP 303XL-blækpatron i tre farver (ca. 415 sider) T6N03AE

Trådløs:

Ja, indbygget dual band Wi-Fi 802.11b/g/n

Tilslutningsmuligheder, standard:

1 USB 2.0-klient
1 Wi-Fi 802.11b/g/n, dual band Wi-Fi 2,4/5 Ghz
BLE

Minimumssystemkrav

Microsoft® Windows® 10, 8.1, 8 og 7: 1-GHz, 32-bit (x86) eller 64-bit (x64), 2 GB ledig harddiskplads, cd-rom-/dvd-drev eller internetforbindelse, USB-port, Microsoft® Internet Explorer Windows Vista®: 800-MHz-processor, 32-bit (x86), 2 GB ledig harddiskplads, cd-rom-/dvd-drev eller internetforbindelse, USB-port, Microsoft® Internet Explorer 8
Windows® XP SP3 eller nyere (kun 32-bit): enhver Intel® Pentium® II-, Celeron®- eller 233-MHz-kompatibel processor, 850 MB ledig plads på harddisken, cd-rom-/dvd-drev eller internetforbindelse, USB-port, Microsoft® Internet Explorer 8. Windows Vista x64 er blevet fjernet fra support på cd- og webpakkerne. Windows Server-support leveres via installationsprogram til kommandolinjen og understøtter Win Server 2008 R2 og nyere.




OS X v10.12 Sierra, OS X v10.11 El Capitan, OS X v10.10 Yosemite
1 GB ledig plads på harddisken
Internet

Kompatible operativsystemer

Windows 10 (32-/64 bit), Windows 8.1 (32-/64 bit), Windows 8 (32-/64 bit), Windows 7 (32-/64 bit), Windows Vista (32-/64 bit), Windows XP (32-bit) (Professional and Home Edition)
Mac OS X version 10.10, 10.9 og 10.8
Linux (du kan finde flere oplysninger på http://hplipopensource.com/hplip-web/index.html).

Mulighed for mobiludskrivning

HP ePrint
Apple AirPrint™
Mopria™-certificeret
Direkte trådløs udskrivning

Hukommelseskortkompatibilitet:

Hukommelse, standard

256 MB DDR3

Dupleksudskrivning:

Understøttede papirstørrelser:

Mediestørrelser, brugerdefineret:

97,79 x 215 til 127 x 355 mm

Medietyper:

Almindeligt papir; HP-fotopapir; HP's matte brochurepapir eller professionelle papir; HP's matte præsentationspapir; HP's blanke brochurepapir eller professionelle papir; Andet fotopapir til Inkjet; Andet mat papir til Inkjet; Andet blankt papir til Inkjet, almindeligt papir, let/genbrugspapir

Anbefalet gramvægt

70 til 90 g/m².

Understøttet gramvægt:

Bakke 1: A4: 75 til 90 g/m²; HP-kuverter: 75 til 90 g/m²; HP-fotopapir: op til 300 g/m²; HP-fotopapir, 10 x 15 cm: op til 300 g/m²

Udskrivning uden ramme:

Ja, op til 216 x 297 mm

Scannertype:

Flatbed

Scanningsfilformat:

RAW, JPG, PDF

Scanningsopløsning, optisk:

Op til 1200 dpi

Maksimal scanningsstørrelse:

216 x 297 mm

Automatisk dokumentfremførers kapacitet:

Ingen automatisk dokumentføder

Understøttede filformater:

Start af scanning:

Scanning til computer eller e-mail via frontpanelet eller HP Solution Center

Kopieringshastighed (kladde)

Sort: Op til 21 kopier/min.
Farve: Op til 19 kopier/min.
(Hastighedspecifikationerne er opdateret til at afspejle markedets seneste testmetoder.)

Kopieringsopløsning (sort tekst):

300 x 300 dpi

Kopieringsopløsning (farvetekst og grafik):

600 x 600 dpi

Kopier, maks.:

Op til 50 kopier

Strømforsyning:

Indgangsspænding: 240 V AC (+/- 10 %), 50/60 Hz (+/- 3 Hz)

Strømforbrug

13,95 watt (udskrivning), 3,60 watt (klartilstand), 0,93 watt (dvale), 0,20 watt (slukket) 1

Driftstemperaturinterval:

5 til 40ºC

Luftfugtighed ved drift:

20% til 80% relativ luftfugtighed

Minimummål (B x D x H)

454 x 161 x 410 mm

Maks. mål (B x D x H)

453,6 x 503,4 x 155,7 mm

Vægt

6,50 kg

Pakkevægt:

8,60 kg

Kassens indhold:

HP ENVY Photo 6230 All-in-One-printer
HP 303 A-startpatron, sort (ca. 185 sider)
HP 303 A-startpatron i tre farver (ca. 120 sider)
Brochure med blækadvarsler
Netledning
Konfigurationskort
Startvejledning
Mediepakke

Kabel medfølger:

Nej, USB-kabel skal købes separat

Medfølgende software:

HP-printersoftware
HP-opdatering
køb forbrugsvarer online
HP-fotokreationer

Garanti:

1 års begrænset hardwaregaranti; Begrænset 24 timers telefonsupport alle ugens dage; Du kan finde flere oplysninger på http://www.support.hp.com
Bedøm og anmeld HP ENVY Photo 6230 All-in-One-printer

(4.48 gennemsnit / 50 BEDØMMELSER / 47 ANBEFALER)

Din anmeldelse er blevet sendt. Bemærk: Din anmeldelse skal muligvis først kontrolleres, og offentliggøres muligvis ikke med det samme Beklager, men din anmeldelse kan ikke sendes. Prøv igen senere. bedøm og skriv en anmeldelse
Skjul skema


Se produktspecifikationerne under Dataark/Dokumenter. Hvis produktet overholder EN 55022 Klasse A, kan brugen af produktet i beboelsesområder medføre (under dårlige betingelser) interferens i tv-/radiomodtagelse.

HP er forpligtet til at give vore kunder oplysninger om kemiske stoffer i vore produkter, så lovmæssige krav som f.eks. REACH (Regulation EC No 1907/2006 of the European Parliament and the Council) overholdes. Du kan finde en rapport med kemiske oplysninger for dette produkt på: www.hp.com/go/reach.