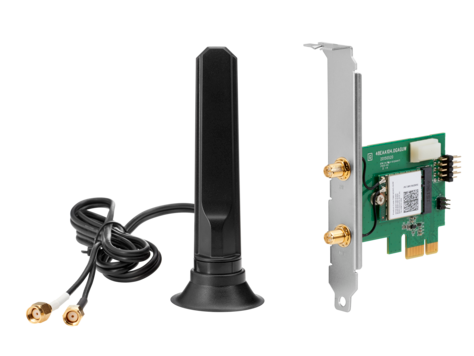 Intel 7265 802.11ac PCIe x1 NIC
(N4G85AA)
Product may not be available direct from HP currently
Special offer:
Special offers:
Overview
Enjoy business-class, high-speed wireless and Bluetooth® connectivity on your desktop with the Intel® 7265 802.11ac PCIe x1 Card (Intel® vPro™ not supported).1
Features
Professional-grade connectivity.
Connect to the network and your devices with WiFi speeds up to 867 Mbps and dual-mode Bluetooth®.3
Supported by HP.
Protect your investment with a limited warranty.2
Specifications

Compatibility:

Please refer to QuickSpecs for list of compatibles products.

Weight

Type 2230: 2.8 g; Type 1630: 2g

Dimensions (W x D x H)

Type 2230 : 2.3 x 22 x 30 mm; Type 1630 : 2.3 x 16 x 30 mm

What's in the box:

PCIe x1 card with full height bracket
RF antenna
Antenna cable
Separate low profile bracket
Software CD and warranty

Warranty:

Your Option Limited Warranty is a one (1) year (HP Option Limited Warranty Period) parts replacement warranty on any HP-branded or Compaq-branded options (HP Options). If your HP Option is installed in an HP Hardware Product, HP may provide warranty service either for the HP Option Limited Warranty Period or the remaining Limited Warranty Period of the HP Hardware Product in which the HP Option is being installed, whichever period is the longer but not to exceed three (3) years from the date you purchased the HP Option.

1 WLAN requires separately purchased access point and Internet service. The specifications for the 802.11ac WLAN are draft specifications and are not final. If the final specifications differ from the draft specifications, it may affect the ability of the notebook to communicate with other 802.11ac WLAN devices.

2 One-year limited warranty, or the remaining warranty of the HP Desktop in which the card is installed.

3 Support for 802.11 ac feature are dependent on country regulations. The following countries restrict the use of 802.11ac: Russia, Ukraine, Belarus, Kazakhstan and Egypt. Actual speeds will be vary based on range, connections, size of network and other factors. Accessing the wireless network requires a Wifi-enabled device. Range will vary with site conditions.
© Copyright 2018 HP Development Company, L.P.