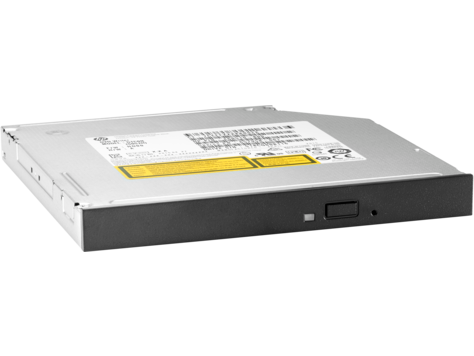 HP 9.5mm G3 8/6/4 SFF G4 400 SFF/MT DVD Writer
(1CA53AA)
Product may not be available direct from HP currently
Special offer:
Special offers:
Overview
Hardware compatibility

Compatible with the HP ProDesk 400 G4 Small Form Factor PC
HP ProDesk 400 G4 Microtower PC
HP ProDesk 600 G3 Small Form Factor PC
HP EliteDesk 800 G3 Small Form Factor PC
Affordably add an optical storage writer to your HP Desktop PC1 with the HP 9.5mm Desktop G3 ODD, which connects through SATA and supports writing—up to 8.5 GB of data or four hours of DVD-quality video—to all DVD formats.
Features
Multi-platform compatible
Easily back up and copy files on a writer that creates DVD discs that can be played on most set-top DVD players and DVD-ROM drives. Record, erase, and re-record CD-RW, DVD+RW, and DVD-RW discs up to 500 times.2
Easy SATA interface
Enjoy fast data transfer speeds, solid system cooling airflow, high, dedicated bandwidth, and headroom for speed increases in future generations.
Supported by HP
Protect your investment with a warranty that is backed the same world-class HP service and support you get for your PC.3
Specifications

Drive height

:

0.9 cm (0.35 in)

Read speed, media

:

DVD-R DL: Up to 6x; DVD+R: Up to 8x; DVD+RW: Up to 8x; DVD+R DL: Up to 6x; DVD-R: Up to 8x; DVD-RW: Up to 6x; CD-R: Up to 24x; CD-RW: Up to 10x; DVD-RW, DVD+RW: Up to 8x; DVD-R DL, DVD+R DL: Up to 8x; DVD+R, DVD-R: Up to 8x; DVD-ROM DL, DVD-ROM: Up to 8x; CD-ROM, CD-R: Up to 24x; CD-RW: Up to 24x

Power supply type

:

Slimline SATA DC power receptacle

Dimensions (W x D x H)

12.8 x 12.7 x 0.9 cm

Weight

140 g

What's included

Warranty

:

Your Option Limited Warranty is a one (1) year parts replacement limited warranty on any HP-branded or Compaq-branded options (HP Options). If your HP Option is installed in an HP Hardware Product, HP may provide warranty service either for the HP Option Limited Warranty Period or the remaining Limited Warranty Period of the HP Hardware Product in which the HP Option is being installed, whichever period is the longer but not to exceed three (3) years from the date you purchased the HP Option.

What's in the box

:

ODD
ODD latch
Bezel
Documentation

1 See product QuickSpecs for exact compatibility.

2 Do not copy commercially available DVD movies or other copy-right protected materials. Double Layer discs can store more data than single layer discs. However, double-layer discs burned with this drive may not be compatible with many existing single-layer DVD drives and players.

3 One year, or the remaining warranty of the HP Desktop PC in which the writer is installed.