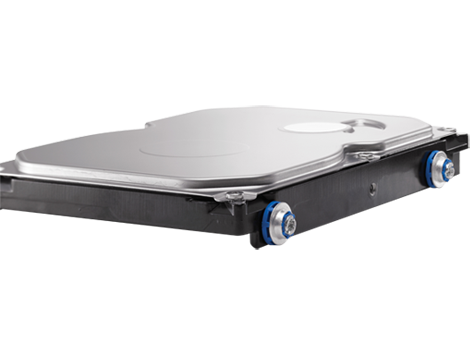 HP 1TB 7200rpm SATA (NCQ/Smart IV) 6Gbp/s Hard Drive
(QK555AA)
Product may not be available direct from HP currently
Special offer:
Special offers:
Overview
Hardware compatibility

HP Serial ATA 6.0-Gb/s Hard Drives are compatible with all HP Business Desktops. NOTE: Not all hard drive models are available in all regions.
Maximize performance of HP Business PCs and meet your storage demands with high-capacity drives. Serial ATA (NCQ and Smart IV) 6.0 Gb/s Hard Drives are available in the following models: 3.5" 7.2K – 1TB, 500 GB** and 3.5" 10K - 250GB** and 500GB.**
Features
Get next-generation technology with increased system cooling airflow, added bandwidth and overall data integrity. Increase your data transfer rates up to 6 Gb per second, doubling your interface speed over SATA 3.0-Gb/s Hard Drives.
Take advantage of Native Command Queuing*, and allow your hard drive to have several write or read commands at the same time. The Drive Lock security feature prevents software access to user data until user-defined passwords are provided.
Keep your hard drive's heath in order with built-in SMART IV technology, which constantly checks the data flow from host interface to media, and media to host for compromises.
Specifications

Drive height

:

1 in (2.54 cm) or less

Dimensions (W x D x H)

8.9 x 2.54 cm

Package dimensions (W x D x H)

:

184 x 232 x 95 mm

What's included

Warranty

:

Your Option Limited Warranty is a one (1) year (HP Option Limited Warranty Period) parts replacement warranty on any HP-branded or Compaq-branded options (HP Options). If your HP Option is installed in an HP Hardware Product, HP may provide warranty service either for the HP Option Limited Warranty Period or the remaining Limited Warranty Period of the HP Hardware Product in which the HP Option is being installed, whichever period is the longer but not to exceed three (3) years from the date you purchased the HP Option.

What's in the box

:

HP SATA Hard Drive
appropriate SATA cable for the drive
installation guide