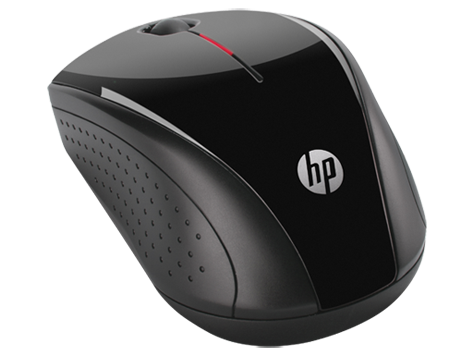 HP X3000 Wireless Mouse
(H2C22AA)
Product may not be available direct from HP currently.
Special offer:
Special offers:
Overview
Hardware compatibility

Microsoft® Windows® XP/Vista™/7/8
Built with strict standards and guidelines, the HP Mouse X3000 effortlessly blends sleek, modern design with life-enhancing, advanced features.
Features
70 years experience. Strict quality control. 1 of the world's leading notebook manufacturers. HP delivers cutting-edge products built with some of the industry's toughest standards to enhance the way you connect & communicate.
The sleek and modern HP Mouse X3000 adds an instant touch of trend-setting style to any work space. Glossy black and metallic gray shine with sophistication. Plus, its curvy silhouette gives it a seductive shape.
The HP Wireless Mouse X3000 features the latest technology you crave. 2.4GHz wireless connection sets you free. Battery life lasts 12 months.(1) Scroll wheel flies through the web and documents. Optical sensor works on most surfaces.
Specifications

Product color

Blue; Purple; Red; Silver

Buttons

:

3 buttons; Scroll wheel

Connector description

:

USB wireless receiver at 27 MHz

Wireless technologies

:

27MHz wireless technology

Product count per unit

:

1

Dimensions (W x D x H)

94.85 x 57 x 39.11 mm

Package dimensions (W x D x H)

:

110 x 70 x 52 mm

Weight

0.080 kg

Package weight

:

0.123 kg

What's included

What's in the box

:

HP Wireless Mouse X3000 with nano receiver
Two AA Batteries
Documentation
2 years limited warranty

(1) Actual battery life will vary with use and environmental conditions.


HP is committed to providing our customers with information about the chemical substances in our products as needed to comply with legal requirements such as REACH (Regulation EC No 1907/2006 of the European Parliament and the Council). A chemical information report for this product can be found at: www.hp.com/go/reach.