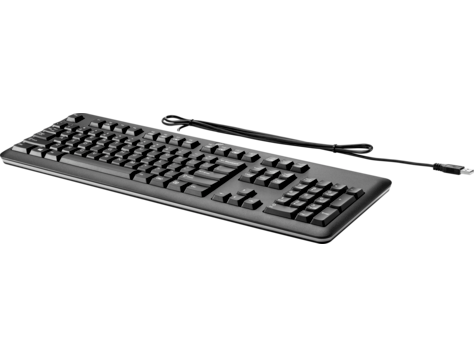 HP USB Keyboard for PC
(QY776AA)
Product may not be available direct from HP currently
Special offer:
Special offers:
Overview
Hardware compatibility

HP Pro 3500 G2 MT
HP 200 G1 MT
HP 202 G1/G2 MT
HP 260 G1 DM (mini)
HP 280 G1 MT
HP ProOne 400 G1 AIO Touch/ Non-Touch
HP ProDesk 400 G1 MT/SFF
HP ProDesk 405 G1 MT
HP ProDesk 490 G1 MT
HP ProDesk 400 G2 MT
HP ProDesk 405 G2 MT
HP Compaq 4300 Pro AiO
HP ProDesk 600 G1 TWR/ SFF/ DM (Mini)
HP Compaq 6300 Pro AiO
HP ProOne 600 G1 AIO
HP EliteDesk 700 G1 MT/ SFF
HP EliteDesk 705 G1 MT/SFF
HP EliteOne 705 G1 AIO
HP EliteDesk 705 G1 DM (Mini)
HP Compaq 8300 Pro AiO
HP EilteDesk 800 G1 TWR/ SFF/ USDT/ DM (Mini)
HP EliteOne 800 G1 AIO
HP EliteOne 800 G1 21.5 Non-Touch AIO
HP EliteOne 800 G1 23" Touch/ Non Touch
The new HP USB Keyboard features an impressively durable design built for ease of use and everyday business computing.
Features
A business-friendly design. Adjustable to 0° or 6° slopes with tilt legs to suit a variety of typing preferences.
Built for durability and heavy usage, including a lifecycle rating up to 20 million keystrokes.
Minimize damage from minor spills with the integrated spill-drain feature.
Expect a fast set-up with quick and easy deployment for your IT atmosphere.
Specifications

Connector description

:

USB

Product count per unit

:

1

Dimensions (W x D x H)

16.43 x 46.03 x 2.55 cm

Package dimensions (W x D x H)

:

18.9 x 48.7 x 3.4 cm

Package weight

:

0.82 ±0.2 kg

What's included

Warranty

:

Your Option Limited Warranty is a one (1) year (HP Option Limited Warranty Period) parts replacement warranty on any HP-branded or Compaq-branded options (HP Options). If your HP Option is installed in an HP Hardware Product, HP may provide warranty service either for the HP Option Limited Warranty Period or the remaining Limited Warranty Period of the HP Hardware Product in which the HP Option is being installed, whichever period is the longer but not to exceed three (3) years from the date you purchased the HP Option.

What's in the box

:

Keyboard
Installation guide
Warranty card
Safety and comfort guide