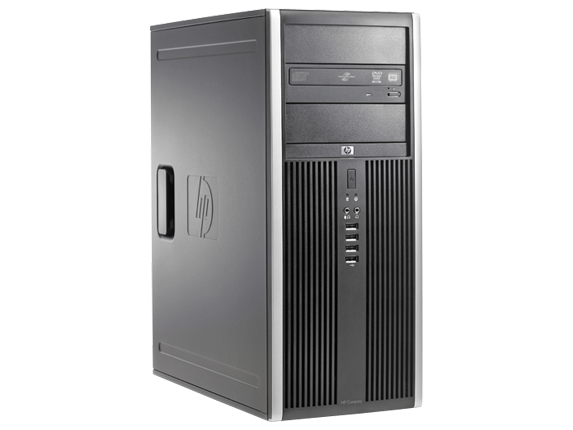 HP Compaq Elite 8000 Desktop PCs
HP Compaq Elite 8300 Convertible Minitower PC (ENERGY STAR)
(C3A51EA)
Special Offer:
Special Offers:
Customize, expand, control. Introducing the HP Compaq Elite 8300 Convertible Minitower; our largest, most expandable business PC form factor with impressive power.
Features
Windows 8 Pro or other operating systems available
Innovative technology, productive design
Featuring expansion capabilities for up to three Hard Disk Drives and two Optical Disk Drives, the Intel® Q77 Express chipset and the new 3rd generation Intel® Core™ vPro™ processor family for powerful performance.
Support for dual graphics cards, and new PCI Express v3.0 graphics technology with increased bandwidth of PCIe x16 slot for fast graphic-intensive performance.
Intel Smart Response Technology (SRT), a disk cache solution, provides solid state drive like performance while retaining the storage capacity of a hard disk drive.
Maximize productivity with up to four independent displays with optional discrete graphics card. Convenient connectivity with line in and line out ports and front-facing USB ports with VGA and DisplayPort outputs for dual-monitor set-ups.
SRS Premium Sound™ provides an outstanding audio experience, including VoIP conferencing, webcasts and collaboration. Exclusive HP Virtual Room software provides face-to-face collaboration around the globe.
Control, manage, protect
Intel® vPro with Active Management Technology allows your IT personnel to access, diagnose, repair and manage the desktop from a remote location saving time and reducing maintenance cost.
Secure data and credentials with HP's certified and embedded Trusted Platform Module (TPM). Disable USB ports and slots for added security
HP ProtectTools offers a comprehensive portfolio of security features that can be customized to protect your data with the level of security your business needs.
Drive Encryption encrypts all data in the hard drive. Permanently erase data with HP File Sanitizer. Credential Manager supports multiple authentication methods with single sign in capability into protected websites and resources.
On hands management is a snap with a tool-less design. Upgrade components with the quick release latches and green pull tabs.
Think efficient, think global
Lower your operating costs and overall eco-footprint with HP PCs: ENERGY STAR® qualified EPEAT ® Gold registered BFR/PVC free materials (excluding external peripherals and cables)
Manage your energy more efficiently with HP Power Assistant software, enabling you to set up custom schedules for when the machine goes into low power states.
Backed by HP
Maintain a consistent work environment, ease transitions and help reduce support costs with a minimum, 15-month lifecycle stability commitment from HP.
Benefit from HP Custom Integration Services (CIS), providing stable, custom software and hardware deployment services for your enterprise needs.
HP Business PCs go through a multi-tiered testing process of over 115,000 hours to help ensure a lasting investment.
Trust in award-winning service and support with a standard, 3-year limited warranty from HP. Additional coverage is available through HP Care Pack Services.
Operating system

Windows 7 Professional 64 (available through downgrade rights from Windows 8 Pro 64)
(This system is preinstalled with Windows 7 Professional software and also comes with a license and media for Windows 8 Pro software. You may only use one version of the Windows software at a time. Switching between versions will require you to uninstall one version and install the other version. You must back up all data (files, photos, etc.) before uninstalling and installing operating systems to avoid loss of your data. )

Processor

:

Intel® Core™ i7-3770 with Intel HD Graphics 4000 (3.40 GHz, 8 MB cache, 4 cores)

Chipset

:

Intel® Q77 Express

Form factor

:

Convertible Minitower

Management features

:

Intel Standard Manageability

Environmental

:

BFR/PVC-free

Memory, standard:

4 GB 1600 MHz DDR3 SDRAM

Memory slots

:

4 DIMM

Internal drive bays

:

Three 8,9 cm (3.5")

External drive bays

:

Three 13,3 cm (5.25")

Internal drive

500 GB 7200 rpm SATA 3.0 Gb/s

Optical drive

SATA SuperMulti DVD writer

Graphics

Integrated Intel HD Graphics 4000

Ports

4 USB 3.0
6 USB 2.0
1 serial
2 PS/2
1 VGA
1 DisplayPort
1 audio in
1 audio out
1 RJ-45
1 headphone
1 microphone

(Optional ports include 1 serial; 1 eSATA; 1 parallel; 1 22-in-1 Media Card Reader)

Expansion slots

3 full-height PCI
1 full-height PCIe x1
2 full-height PCIe x16

Audio

:

High Definition Audio with Realtek ALC221 codec; SRS Premium Sound audio management technology; internal speaker standard

Network interface

Intel 82579LM Gigabit network connection (standard); Intel Gigabit CT Desktop PCIe x1 network card (optional); HP 802.11 b/g/n PCIe x1 network card (optional)

Energy efficiency

:

Power supply

:

320W standard efficiency, active PFC; 320W 90% efficient, active PFC

Operating temperature range

:

10 to 35°C

Operating humidity range

:

10 to 90%RH

Dimensions (W x D x H)

17.8 x 44.5 x 44.8 cm

Weight

Starting at 11.2 kg
(Exact weight depends on configuration )

Security management

:

Trusted Platform Module (TPM) 1.2
Stringent security (via BIOS)
SATA port disablement (via BIOS)
Drive lock
RAID configurations
Intel Identify Protection Technology
Serial, parallel, USB enable/disable (via BIOS)
USB Port Disable at factory (optional)
Removable media write/boot control
Power-On password (via BIOS)
Setup password (via BIOS)
Solenoid Hood Lock / Sensor
Support for chassis padlocks and cable lock devices

Software

:

Microsoft® Office Starter: reduced-functionality Word and Excel® only, with advertising. No PowerPoint® or Outlook®. Buy Office 2010 to use the full-featured software
Adobe Flash Player
Ask Search (alternate search engine)
HP Marketplace
HP ProtectTools Security Suite
HP Wallpaper
Microsoft Advantage Program
Microsoft Security Essentials
PDF Complete Corporate Edition
WinZip Basic
Yahoo Search (alternate search engine)
HP EUDI Support Environment
HP Help and Support
HP Recovery Manager
HP Setup v9.0
HP Support Assistant

Keyboard

:

HP PS/2 Standard Keyboard

Warranty

:

Protected by HP Services, including a 3-3-3 standard warranty. Terms and conditions vary by country and/or Business Model.
Rate & Review HP Compaq Elite 8300 Convertible Minitower PC (ENERGY STAR)

( average / RATINGS / RECOMMENDS)

Your review has been submitted.

Please note that your review may need to be reviewed and may not post immediately

Sorry, your review can't be submitted. Please, try again later.

rate & write a review
Hide Form
Not all features are available in all editions of Windows 8. Systems may require upgraded and/or separately purchased hardware to take full advantage of Windows 8 functionality. See http://www.microsoft.com/windows/ for details.

HP is committed to providing our customers with information about the chemical substances in our products as needed to comply with legal requirements such as REACH (Regulation EC No 1907/2006 of the European Parliament and the Council). A chemical information report for this product can be found at: www.hp.com/go/reach.