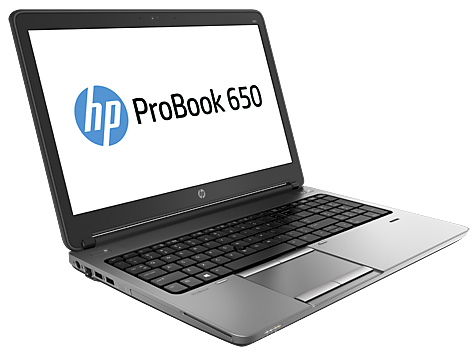 HP ProBook 600 Notebook PCs
HP ProBook 650 G1 Notebook PC
Odaberite model
Posebna ponuda:
Posebne ponude:
Take on tasks in the office or on the road with a durable HP ProBook 640 and HP ProBook 650. These ProBooks are thin, light and packed with productivity features to make work faster and easier. Plus, reliable security solutions keep your data out of the wrong hands.
Značajke
Windows 8 Pro or other operating systems available
Thinner, tougher taskmaster.
Get the technology you trust from HP, with cutting-edge style that looks and feels the way you want.
Join forces with the latest generation technology and legacy features your business demands on a new thinner HP ProBook for in the office or on the go.
Protect existing IT investments with support for existing legacy features such as an optical drive, optional serial ports,1 VGA and RJ45 connectors.
Enjoy a desktop experience on your ProBook with various docking options including HP 120W Advanced Docking Station and HP 90W Docking Station.2
Design your ideal ProBook.
Take advantage of the wide range of features and configurable options on the new HP ProBook 600 Series.
Configure a ProBook made for your business thanks to flexible architecture configurations including the latest Intel® 4th generation processors.3
Experience great visual performance with full-HD display options, AMD 1GDDR5 discrete graphics and native DisplayPort 1.2.4
Bridge distances on the HP ProBook 600 series, optimized for communication with Microsoft Lync,5 premium audio/video and full-HD display.6
Stay in touch from the office or on the road with powerful connectivity options including 4G WWAN,7,8 HP Wireless Hotspot9 and Bluetooth® 4.0.
Convenient Control.
Protect data, devices and identities with HP Client Security10 and use HP Trust Circles11 to make sure only assigned contacts can access critical files.
Keep sensitive information in safe hands. HP Trust Circles11 protects your data by ensuring that only approved contacts can access critical files.
Stay up and running. HP BIOS Protection12 offers enhanced protection against virus attacks to the BIOS and other security threats, and is designed to help prevent data loss and reduce downtime.
Enjoy easy and simple integration into your IT environment with HP Client Management Solutions13 such as optional LANDesk14 and Intel vPro15 technology.
Maintain a productive system environment with stable and consistent images, managed lifecycle transitions and Global Series support you can rely on.
1 Optional Serial ports available on HP ProBook 650.
2 Docking Stations sold separately.
3 Multi-Core is designed to improve performance of certain software products. Not all customers or software applications will necessarily benefit from use of this technology. 64-bit computing on Intel® architecture requires a computer system with a processor, chipset, BIOS, operating system, device drivers, and applications enabled for Intel® 64 architecture. Processors will not operate (including 32-bit operation) without an Intel® 64 architecture-enabled BIOS. Performance will vary depending on your hardware and software configurations. Intel's numbering is not a measurement of higher performance.
4 Support for external displays as a standard feature through integrated processor-based graphics is dependent upon the particular PC platform/form factor; the actual number of displays supported will vary. An optional discrete graphics solution will be required for the support of additional displays. Additional cables required. DisplayPort with multi-stream through integrated graphics is planned to be available in fall 2013 as an integrated feature and as a web update in late summer 2013.
5 Microsoft Lync sold separately.
6 Optional webcam and internet service required for video conferencing, and not included.
7 4G LTE not available on all products, in all regions and only available on products featuring Intel processors.
8 Mobile broadband is optional or an add on feature and use requires separately purchased service contract. Check with your service provider for coverage and availability in your area. Connection speeds will vary due to location, environment, network conditions, and other factors.
9 The wireless hotspot application requires an active internet connection and separately purchased data plan. While HP wireless hotspot is active, on-device applications will continue to work and will use the same data plan as the wireless hotspot. Wireless hotspot data usage may incur additional charges. Check with your service provider for plan details. Requires Windows 8.
10 HP Client Security requires Windows.
11 HP Trust Circles Standard, when included, allows up to 5 Trust Circles with up to 5 contacts in each Trust Circle. Optional Trust Circles Professional required for unrestricted number of Trust Circles and members contacts. Trust Circles Reader is available to allow a contact to participate in an invited Trust Circle. Requires Windows.
12 HP Tools partition with HP BIOS required for automatic recovery.
13 HP Client Management Solutions requires Windows.
14 LANDesk software is sold separately. Managed devices must be connected to the management server. Requires active LANdesk maintenance service. Wipe functionality performs a "Windows 8 Reset" and requires Windows 8. Lock performs a Windows "Lock Computer."
15 Some functionality of this technology, such as Intel® Active management technology and Intel Virtualization technology, requires additional 3rd party software in order to run. Availability of future "virtual appliances" applications for Intel vPro technology is dependent on 3rd party software providers. Microsoft Windows required.
Operacijski sustav


Windows 8 Pro 64
Windows 7 Professional 32 (available through downgrade rights from Windows 8 Pro 64)
Windows 7 Professional 64 (available through downgrade rights from Windows 8 Pro 64)
Windows 7 Professional 32
Windows 7 Professional 64
Windows 7 Home Premium 32
Windows 7 Home Premium 64
FreeDOS

Linija procesora

Intel® Core™ i7 processor
Intel® Core™ i5 processor
Intel® Core™ i3 processor

Procesor

Intel® Core™ i3-4000M with Intel HD Graphics 4600 (2.4 GHz, 3 MB cache, 2 cores)
Intel® Core™ i5-4200M with Intel HD Graphics 4600 (2.5 GHz, 3 MB cache, 2 cores)
Intel® Core™ i5-4300M with Intel HD Graphics 4600 (2.6 GHz, 3 MB cache, 2 cores)
Intel® Core™ i7-4600M with Intel HD Graphics 4600 (2.9 GHz, 4 MB cache, 2 cores)

Processor technology

:

vPro (select models)

Čipset

Mobile Intel® HM87; Mobile Intel® QM87

Očuvanje okoliša

Low halogen

Dimenzije (Š x D x V)

37.8 x 25.7 x 2.53 cm (at front)

Težina

Starting at 2.32 kg

Memorija, maksimalna

8 GB 1600 MHz DDR3 SDRAM

Memory slots

:

2 SODIMM

Interni pogon

320 GB do 500 GB SATA (7200 rpm)
500 GB SATA SED (7200 rpm)
128 GB do SATA SSD

Optički pogon

DVD+/-RW SuperMulti DL
DVD-ROM

Zaslon

39,6 cm (15.6") diagonal LED-backlit HD anti-glare eDP 1.2 flat (1366 x 768)
39,6 cm (15.6") diagonal LED-backlit FHD SVA anti-glare eDP 1.2 slim (1920 x 1080)

Grafička kartica

Integrated: Intel® HD Graphics 4600
Discrete: AMD Radeon HD 8750M (1 GB GDDR5 dedicated)

Priključci

4 USB 3.0
1 USB 3.0 charging
1 DisplayPort
1 VGA
1 combo stereo headphone/mic jack
1 AC power
1 RJ-11 (modem)
1 RJ-45
1 docking connector
1 serial

Utori za proširenje

1 Media Card Reader

Zvuk

HD Audio with DTS Studio Sound; (2) Integrated stereo speakers; Integrated microphone (dual-microphone array with optional webcam); Stereo headphone/line out; Stereo microphone in

Fotoaparat

720p HD webcam (select models)

tipkovnica

Spill-resistant keyboard with drain

Pokazivački uređaj

Touchpad with on/off button, two-way scroll, gestures, two pick buttons; Pointstick with two additional pointstick buttons

Mrežno sučelje

Realtek (10/100/1000)

Bežična veza

Atheros 802.11b/g/n (1x1)
Broadcom 802.11a/b/g/n (2x2) and Bluetooth 4.0 Combo
HP hs3110 HSPA+ Mobile Broadband
HP lt4112 LTE/HSPA+ Mobile Broadband
Intel Centrino Advanced-N 6235 802.11a/b/g/n and Bluetooth 4.0 Combo

Energetska učinkovitost

ENERGY STAR® qualified configurations available

Izvor napajanja

Integrated: 65W Smart AC adapter; 90W Smart AC adapter; Discrete: 90W Smart AC adapter

Battery type

:

6-cell (55 WHr) Li-Ion
6-cell (55 WHr) Long Life

Upravljanje sigurnošću

HP Client Security Suite includes: HP Credential Manager, HP Password Manager, HP File Sanitizer and HP Device Access Manager with Just in Time Authentication
HP Drive Encryption
HP Secure Erase
HP Trust Circles
Microsoft Security Essentials (Windows 7) & Microsoft Defender (Windows 8)
HP SpareKey
Absolute Data Protect
TPM Embedded Security Chip 1.2 Security lock

Softver

HP 3D DriveGuard
HP Connection Manager (Windows 7)
HP Wireless HotSpot
HP Mobile Connect (EMEA only)
HP PageLift
HP Recovery Manager
HP Support Assistant
HP ePrint
Buy Office

Značajke upravljanja

HP 3D DriveGuard (Windows only)

Warranty

:

1-year limited warranty for carry-in service (pick-up and return service in selected countries) (upgrades available, sold separately), 1-year warranty on primary battery
Kratki tehnički podaci
Cijeli svijet (engleski)


Brze veze
Ocjena i recenzija HP ProBook 650 G1 Notebook PC

(

AVG /

OCJENE / PREPORUČUJE)
Sakrij obrazac
U nekim izdanjima sustava Windows 8 i Windows 8.1 nisu dostupne neke značajke. Da bi se u potpunosti iskoristile mogućnosti funkcija sustava Windows 8 i Windows 8.1, možda će vam biti potreban nadograđen i/ili zasebno kupljen hardver, drivere i / ili softver. Vidi http://windows.microsoft.com/hr-HR/.

HP je predan informiranju korisnika o kemijskim tvarima u svojim proizvodima kako to zahtijevaju pravni propisi kao što je REACH (Propis EC Br. 1907/2006 Europskog parlamenta i vijeća). Izvješće s podacima o kemijskim tvarima za ovaj proizvod možete pronaći na adresi: www.hp.com/go/reach.