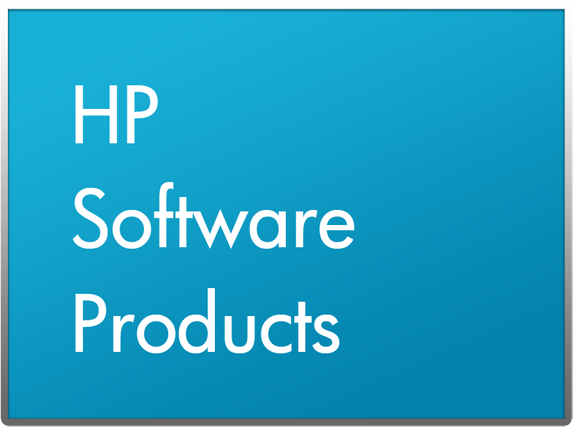 Network Management/Security Software
HP IMC Virtual Application Networking Fabric Manager Software E-LTU
(JG770AAE)
Special Offer:
Special Offers:
HP Intelligent Management Center (IMC) software is a modular comprehensive resource management platform. With its extensive device support, IMC software provides true end-to-end management for the entire network, as well as the entire operation cycle.

HP IMC Virtual Application Networking (VAN) Fabric Manager Software is an IMC module which simplifies the management of data center and Fibre Channel Storage Area Networks (SAN) fabrics. It provides a unified view of all of the network and storage devices in the data center fabric alongside fabric health to enable quick troubleshooting and pro-active management.

VAN Fabric Manager Software eliminates manual provisioning and allows you to easily configure Ethernet Virtual Interconnect (EVI), Shortest Path Bridging (SPB) or TRILL (Transparent Interconnect of Lots of Links) through the same graphical user interface used to automate, monitor and manage your entire network. You will gain a better understanding of workload mobility through VAN Fabric Manager Software since it reports critical information, such as the longest VM duration and allows you to visualize the migration of VM through the virtualized network.

With an optional add-on license, data center network management can be extended to physical and virtual FCSANs fabrics with FCoE management, simplifying the configuration of FCoE in the SAN and vSAN.        
Features
Management
Data center management: - Views of network devices, servers, storage devices and VMs in the data center. - Statistics about alerts and port utilization of network devices. - Eliminates manual provisioning of datacenter interconnect service parameters across the network fabric. - Visibility into VM migration including migration duration and migration of VM profiles..
LAN configuration management: EVI management: Administrator can add, delete, deploy, and dismantle an EVI service, and can audit public network connectivity for an EVI service.. - See the trends of VM migration for every EVI service. - Chart the numbers of MAC and VLAN in every EVI service. SPB management: Provides SPB topology. - Device status and displays interface list of SPB device. - SPB service management . - VLAN mapping in multiple spanning tree (MST) domain.
Trill management: - Provides graphical represetation of Trill topology. - Can individually or batch deploy Routing Bridate (Rbridge) parameter in a TRILL networks . - Device status and displays interface list of Trill-enabled device.
SAN management: - Simplify the network configuration for FCSANs and FCoE storage devices with full VSAN management. - Topology highlighting the FCoE and SAN structure between data centers. - DCB, DCBx and VSAN configuration and deployment. - VSAN/mapping between VSAN and VLAN/Zoneset/Zone. - Requires optional FCoE add-on license.
Software (required)

:

Database: Microsoft® SQL Server 2005 Service Pack 3 (Windows only), Microsoft SQL Server 2008 Service Pack 3 (Windows only), Microsoft SQL Server 2008 Service Pack 3 (64-bit—Windows 64-bit only), Microsoft SQL Server 2008 R2 Service Pack 1 (Windows only), Microsoft SQL Server 2008 R2 Service Pack 1 (64-bit—Windows only), Oracle 11g Release 1 (Linux only), Oracle 11g Release 2 (Linux only), Oracle 11g Release 2 (64-bit—Linux only), MySQL Enterprise Server 5.1 (Linux and Windows—up to 1,000 devices supported), and MySQL Enterprise Server 5.5 (Linux and Windows—up to 1,000 devices supported)

Software (recommended)

:

Server: Windows® Server 2003 with Service Pack 2; Windows® Server 2003 X64 with Service Pack 2 and KB942288 ; Windows® Server 2003 R2 with Service Pack 2; Windows® Server 2003 R2 X64 with Service Pack 2 with KB942288; Windows® Server 2008 with Service Pack 2; Windows® Server 2008 X64 with Service Pack 2; Windows® Server 2008 R2 with Service Pack 1 ; Windows® Server 2008 R2 X64 with Service Pack 1; Red Hat Enterprise Linux 5; Red Hat Enterprise Linux 5 X64 ; Red Hat Enterprise Linux 5.5; Red Hat Enterprise Linux 5.5 X64; Red Hat Enterprise Linux 6.1 X64

Minimum system requirements

:

Server: Intel® Pentium® 4 3.0 GHz, 4 GB RAM memory, 50 GB storage, 10/100 MB NIC

System requirements, recommended

:

Server: 3.0 GHz Intel® Xeon® or Intel® Core™2 Duo processor or equivalent; 4 GB RAM; 100 GB; 10/100 MB

Warranty

:

90 days

What's in the box

:

License Entitlement, Electronic Delivery