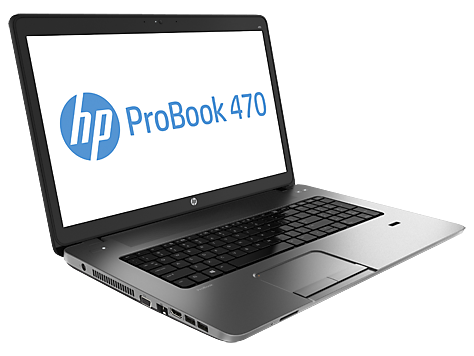 HP ProBook 400 Notebook PCs
HP ProBook 470 G1 Notebook PC
Pasirinkite modelį
Specialusis pasiūlymas:
Specialieji pasiūlymai:
Work smarter – and look good doing it – with an HP ProBook built to perform wherever business takes you. Count on a durable design inside and out, with integrated security and a spill-resistant keyboard. Plus, there's less bulk to bring with you, thanks to thin, stylish construction.
Savybės
Windows 8 Pro or other operating systems available
Powerful productivity.
Take charge of your workday with the latest technologies like ac band WLAN,1 2 optional hybrid hard drive,1 and 4th generation Intel® Core™ processors.3
An optional 500 GB1,4 hybrid hard drive offers the storage capacity of a traditional hard drive and the responsiveness of hybrid hard drive.
Don't let the office tie you down. Work in more places with high-speed wireless connectivity, including optional ac band WLAN1 2 and Bluetooth® 4.0.1
You have to be quick. The speed of the latest 4th generation Intel® Core™ i3/i5/i7 processors help you work faster.3
It's all about connections.
Easily share your internet connection with up to five devices with HP Wireless Hotspot.5 Help colleagues get online and improve productivity. Print from your PC, smartphone, or tablet from virtually anywhere with HP ePrint.6
Make the most of virtual conferencing. DTS Sound and an HD webcam7 bring work to life through rich sound and video.8 You're ready for web chats and conferences with Skype™ pre-configured on your HP ProBook. It's almost as good as being there.7
Built to perform.
The power and performance of the HP ProBook is matched by the solid design and elegant finishes.
Get the technology you trust from HP, with cutting-edge style that looks and feels the way you want.
Tackle your workload with technology that's built strong, from the core up. This HP ProBook is made with a tough aluminum reinforced chassis for lightness and durability.
Help protect sensitive electronics and key components from minor spills with a thin layer of Mylar film in the spill-resistant keyboard.
HP ProBooks undergo challenging tests so you don't have to. During the HP Total Test Process, PCs experience 115,000 hours of performance trials to ensure they can withstand rigorous work environments.
Protect your work.
Stay one step ahead of hacks and attacks. Built-in security safeguards your HP ProBook against viruses, detects possible corruption, and alerts you to unauthorized changes.9
HP Client Security software suite helps you encrypt your hard drive, 10 permanently delete unwanted or discarded data, restrict unauthorized access, and more.
Stay up and running. HP BIOS Protection offers enhanced protection against virus attacks and other security threats, and is designed to help prevent data loss and reduce downtime.9
Prevent data leaks. Device Access Manager with Just in Time Authentication helps prevent data from accidental or malicious transfers to USB devices without your permission.
No more remembering passwords. HP Password Manager lets you quickly log in to various online accounts.11 Simply log on to Windows and web sites, via HP Password Manager, using the optional fingerprint reader.1 12
1 Sold separately or as an optional feature.
2 Wireless access point and internet access required. Availability of public wireless access points limited. The specifications for the 802.11ac WLAN are draft specifications and are not final. If the final specifications differ from the draft specifications, it may affect the ability of the notebook to communicate with other 802.11ac WLAN devices.
3 Multi-Core is designed to improve performance of certain software products. Not all customers or software applications will necessarily benefit from use of this technology. 64-bit computing on Intel® architecture requires a computer system with a processor, chipset, BIOS, operating system, device drivers, and applications enabled for Intel® 64 architecture. Processors will not operate (including 32-bit operation) without an Intel® 64 architecture-enabled BIOS. Performance will vary depending on your hardware and software configurations. Intel's numbering is not a measurement of higher performance.
4 For hard drives, GB = 1 billion bytes. Actual formatted capacity is less. Up to 36 GB of system disk is reserved for system recovery software.
5 The wireless hotspot application requires an active internet connection and separately purchased data plan. While HP wireless hotspot is active, on-device applications will continue to work and will use the same data plan as the wireless hotspot. Wireless hotspot data usage may incur additional charges. Check with your service provider for plan details. Requires Windows.
6 Requires an Internet connection to HP web-enabled printer and HP ePrint account registration (for a list of eligible printers, supported documents and image types and other HP ePrint details, see www.hpconnected.com). Mobile devices require Internet connection and email capability. May require wireless access point. Separately purchased data plans or usage fees may apply. Print times and connection speeds may vary. Some HP LaserJet printers may require firmware upgrades.
7 Optional webcam required.
8 Internet access required.
9 HP Tools partition with an HP BIOS required for automatic recovery.
10 Requires Windows. Data is protected prior to Drive Encryption login. Turning the PC off or into hibernate logs out of Drive Encryption and prevents data access.
11 Requires Internet Explorer IE8 or IE9. Not all websites and applications may be supported.
12 Optional Fingerprint sensor supported in Windows and Linux.
Operacinė sistema

Windows 8 Pro 64
Windows 8 64
Windows 7 Professional (available through downgrade rights from Windows 8 Pro)
FreeDOS

Procesoriaus šeima

Intel® Core™ i7 processor
Intel® Core™ i5 processor
Intel® Core™ i3 processor
Intel® Celeron® processor
Intel Pentium® Dual-Core processor

Procesorius

Intel® Celeron® 2950M with Intel HD Graphics (2 GHz, 2 MB cache, 2 cores)
Intel® Core™ i3-4000M with Intel HD Graphics 4600 (2.4 GHz, 3 MB cache, 2 cores)
Intel® Core™ i5-4200M with Intel HD Graphics 4600 (2.5 GHz, 3 MB cache, 2 cores)
Intel® Core™ i7-4702MQ with Intel HD Graphics 4600 (2.2 GHz, 6 MB cache, 4 cores)
Intel® Pentium® 3550M with Intel HD Graphics (2.3 GHz, 2 MB cache, 2 cores)

Lustų rinkinys

Mobile Intel® HM87

Aplinkosauga

Low halogen

Matmenys (plotis x gylis x aukštis)

41.38 x 27.95 x 2.53 cm (at front)

Svoris

Starting at 2.87 kg


(without optical drive (weight will vary by configuration))

Atmintinė, didžiausias kiekis

16 GB 1600 MHz DDR3L SDRAM

Lizdai atminties moduliams

:

2 SODIMM

Vidinis diskas

500 GB SATA (7200 rpm)
500 GB iki 1 TB SATA (5400 rpm)
500 GB SATA SSHD (5400 rpm)

Optinių diskų įrenginys

Blu-ray ROM DVD+/-RW SuperMulti DL
DVD+/-RW SuperMulti DL

Ekranas

43,9 cm (17.3") diagonal LED-backlit HD+ anti-glare (1600 x 900)

Grafika

Switchable Discrete: AMD Radeon HD 8750M (with 1 or 2 GB dedicated DDR3 video memory)

Prievadai

2 USB 3.0
2 USB 2.0
1 HDMI
1 stereo microphone in
1 AC power
1 RJ-45
1 headphone/line-out
1 VGA

Papildomi lizdai

1 Media Card Reader

Garsas

DTS Sound+; Integrated stereo speakers; Integrated digital microphone; Dual microphone array

Fotoaparatas

720p HD Webcam (select models)

klaviatūra

Full-sized, spill-resistant keyboard with numeric keypad

Žymiklio valdymo įrenginys

Touchpad with gestures support, on/off button with LED indicator, two-way scroll, two pick buttons

Tinklo sąsaja

Realtek Ethernet (10/100/1000)

Belaidis ryšys

Mediatek 802.11b/g/n (1x1) and Bluetooth 4.0 Combo
Intel Dual Band Wireless-AC 3160 802.11a/b/g/n/ac (1x1) WiFi and Bluetooth 4.0 Combo
Intel Dual Band Wireless-N 7260AN 802.11a/b/g/n (2x2) WiFi and Bluetooth 4.0 Combo (Supports Bluetooth 2.1 on Linux operating systems )

Energijos suvartojimo efektyvumas

ENERGY STAR® qualified configurations available

Maitinimo tiekimas

Discrete: 90W Smart AC adapter; HP Fast Charge (6 cell only)

Baterijos tipas

:

9-cell (93 WHr) Li-Ion
6-cell (47 WHr) Li-Ion

Akumuliatoriaus naudojimo trukmė

9-cell (93 WHr): Up to 15 hours 15 min
6-cell (47 WHr): Up to 8 hours 15 min
(Battery Life with Windows 7 )

Saugumo valdymas

Standard: HP Client Security
Security lock slot
Optional: Intel® Anti-Theft (requires a Computrace subscription)
Intel® Indentity Protection
HP Fingerprint reader

Programinė įranga

HP Wireless Hotspot
HP ePrint, HP Hotkey support
HP Recovery Manager
Buy Office

Valdymo funkcijos

HP 3D DriveGuard (Windows only)

Garantija

:

1-year limited warranty (upgrades available, sold separately), 1-year warranty on primary battery
Įvertinimas ir atsiliepimas HP ProBook 470 G1 Notebook PC

(

AVG /

VERTINIMAI / REKOMENDUOJA)
Slėpti formą
Ne visuose "Windows 8" ir "Windows 8.1" leidimuose pateikiamos visos funkcijos. Kad būtų galima išnaudoti visus "Windows 8" ir "Windows 8.1" funkcinius privalumus, gali reikėti atnaujinti sistemą ir (arba) atskirai įsigyti papildomos techninės įrangos, vairuotojams ir / arba programinės įrangos. Žr http://windows.microsoft.com/lt-LT/.

Atkreipkite dėmesį į instrukcijas, esančias informaciniame lape/dokumentuose. Jei produktas atitinka EN 55022 A klasės reikalavimus, produkto naudojimas gyvenamąjame rajone gali trukdyti (nepalankiomis sąlygomis) priimti TV/radio signalą.

HP yra įsipareigojusi teikti vartotojams informaciją apie chemines medžiagas, esančias gaminiuose, kurie turi atitikti teisinius reikalavimus, pvz., REACH (Europos Parlamento ir Tarybos reglamentas EB Nr. 1907/2006). Šiam gaminiui skirtą informacijos ataskaitą apie chemines medžiagas galite rasti: www.hp.com/go/reach.