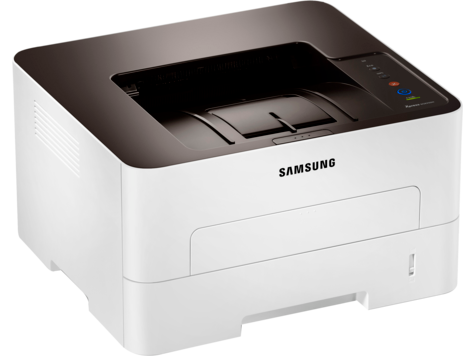 Samsung Personal Black and White Laser Printers
Samsung Xpress SL-M2825ND Laser Printer
(SS343G)
Special offer:
Special offers:
Samsung Xpress M2825ND produces complex, professional-quality documents with increased speed and provides low TCO by avoiding excessive printing costs. Moreover, it will improve productivity and flexibility by reducing difficulty.
Improve workflow with fast, high-quality printing
High speed printing and image processing
Sharp and professional document quality
Diverse printing choices for professional documents
Cut costs while lowering energy and toner usage
One-touch Eco button
Easy Eco Driver
Low total cost of ownership
Manage and maintain printers with features designed for ease of use
Easy toner replacement
Easy Printer Manager
Features
High speed printing and image processing
The Xpress M2825ND delivers print speeds of up to 28 ppm in A4. These robust printers are designed to handle large, complex print jobs with Samsung's advanced 600 MHz Cortex™-A5 core processor and 128 MB memory.1
Sharp and professional document quality
ReCP technology improves readability of printed documents by enhancing thin lines and sharpening the edges of negative text. The Xpress M2825ND delivers sharp, solid prints with effective output print resolutions of up to 4,800 x 600 dpi.1
Diverse printing choices for professional documents
The Xpress M2825ND is built to handle a wide range of media types. Businesses can produce flyers and other collateral, even on heavier media, such as 220 g/m² cardstock, for professional-looking results.
One-touch Eco button
Businesses can lower toner and paper usage with the one-touch Eco button. The one-touch Eco button automatically activates 2-up printing and duplex printing. Users can also choose the option to skip blank pages in the toner-saving mode.
Easy Eco Driver
Easy Eco Driver can save on toner and reduces energy consumption. Users can further save toner by removing images or text in toner save mode.
Low total cost of ownership
Starter and standard yield toner cartridges can yield 1,200 standard pages; high-yield replacement cartridges can yield 3,000 standard pages. The separate toner cartridge and imaging unit enables either part to be replaced only when necessary.
Easy toner replacement
Toner replacement in the Xpress M2825ND is designed to be quick and easy. Featuring a top-load, slide-out drawer, toner replacement requires as few as four steps to accomplish.
Easy Printer Manager
Monitor toner amounts, order consumables online and maintain the device settings from your computer with Easy Printer Manager. Employees can simply check the status of print jobs from a PC or mobile device.
1 Message based on internal data. Actual results may vary. For more information see http://www.hp.com/go/printerclaims/samsung
2 Copyright © 2013 Samsung Electronics Co. Ltd. All rights reserved. Samsung is a registered trademark of Samsung Electronics Co. Ltd. Specifications and designs are subject to change without notice. Non-metric weights and measurements are approximate. All data were deemed correct at time of creation. Samsung is not liable for errors or omissions. All brand, product, service names and logos are trademarks and or registered trademarks of their respective owners and are hereby recognized and acknowledged.
3 Apple Store and iOS are registered trademarks of Apple Inc.
4 Cortex is a trademark or registered trademarks of ARM Ltd or its subsidiaries.
5 Facebook is a registered trademark of Facebook, Inc.
6 Google, Android and Google Cloud Print are trademarks or registered trademarks of Google, Inc.
7 Twitter and the Twitter logo are registered trademarks of Twitter, Inc.
Functions:

Print speed black:

Normal: Up to 28 ppm

First page out (ready)

Black: As fast as 8.5 sec

Duty cycle (monthly, A4)

Up to 12,000 pages

Print technology:

Print quality black (best):

Print Resolution Technologies:

ReCP

Print languages:

SPL, PCL5, PCL6

Display:

Processor speed:

600 MHz

Automatic paper sensor:

No

Replacement cartridges

Standard Toner Cartridge (~ 1,200 yield) MLT-D116S
High yield Toner Cartridge (~ 3,000 yield) MLT-D116L



Mobile printing capability

Apple AirPrint™
Mobile Apps
Google Cloud Print™

Network capabilities:

Via built-in 10/100 Base-TX Ethernet
Auto-crossover Ethernet

Wireless capability:

Connectivity, standard:

Hi-Speed USB 2.0 port
built-in Fast Ethernet 10/100 Base-TX network port;

Minimum system requirements

Windows® XP (SP3) (32-bit)or newer, 933 MHz processer or higher, 128 MB RAM, 1.5 GB HD space, CD-ROM or Internet, USB or Network connection




OSX 10.5 or newer
Internet
USB or Network connection
1 GB HD space
1 GB RAM

Compatible operating systems

Windows®: XP (32/64 bit), 2003 Server (32/64 bit), Vista (32/64 bit), 2008 server (32/64 bit), 7 (32/64 bit), 2008 Server R2, 10 (32/64 bit), 2012 Server, 2016 Server
MAC OS 10.5 - 10.10
Linux: Red Hat Enterprise Linux (5, 6, 7), Fedora (15, 16, 17, 18, 19, 20, 21, 22), openSUSE (11.4, 12.1, 12.2, 12.3, 13.1, 13.2), Ubuntu (11.04, 11.10, 12.04, 12.10, 13.04, 13.10, 14.04, 14.10, 15.04, 15.10), SUSE Linux Enterprise Desktop (11, 12), Debian (6, 7, 8), Mint (13, 14, 15, 16, 17)
Unix: Sun Solaris 9, 10, 11 (x86, SPARC), HP-UX 11.0, 11i v1, 11i v2, 11i v3 (PA-RISC, Itanium), IBM AIX 5.1, 5.2, 5.3, 5.4, 6.1, 7.1 (PowerPC)

Memory:

128 MB

Maximum memory

128 MB

Paper handling input, standard:

250-sheet input tray
1-sheet multi-purpose tray

Paper handling output, standard:

Maximum output capacity (sheets):

Up to 150 sheets

Duplex printing:

Media sizes supported:

Tray 1: A4, A5, A6, B5 (ISO), B5 (JIS), Oficio, Envelope (DL, C5), Tray 2: A4, A5, A6, B5 (ISO), B5 (JIS), Oficio

Media sizes, custom:

76 x 127 to 216 x 356 mm

Media types:

Plain, Thick, Thin, Cotton, Color, Preprinted, Recycled, Lables, CardStock, Bond, Archive, Envelope

Supported media weight:

Tray 1: 60 to 163 g/m²; Tray 2: 60 to 163 g/m²

Power:

110-volt input voltage: 110 to 127 VAC, 50/60Hz and 220-volt input voltage: 220 to 240 VAC, 50/60Hz

Power consumption

405 watts (Printing), 45 watts (Ready), 0.9 watts (Power Save)

Energy efficiency:

Operating temperature range:

10 to 30°C

Recommended operating humidity range:

20 to 70% RH (non-condensing)

Acoustic power emissions (ready)

3.8 B (A)

Acoustic pressure emissions bystander (active, printing)

50 dB (A)

Minimum dimensions (W x D x H):

368 x 334.5 x 202 mm

Maximum dimensions (W x D x H):

368 x 334.5 x 202 mm

Weight:

7.4 kg

Package dimensions (W x D x H):

458 x 449 x 315 mm

Package weight:

9.62 kg

What's in the box

Power cord(s)
Toner cartridge(s)
User Guide
warranty card
CD

Cable included:

Yes, 1 USB cable

Warranty:

Warranty varies by country. Please contact customer service for information.
Rate & Review Samsung Xpress SL-M2825ND Laser Printer

 

(0.0 average / 0 RATINGS / 0 RECOMMENDS)

Your review has been submitted. Please note that your review may need to be reviewed and may not post immediately Sorry, your review can't be submitted. Please, try again later. rate & write a review
Hide Form
Note: Information published at this site may refer to products, programs or services that are not available in your country. Consult your local HP business contact for information regarding the products, programs and services that may be available. *Prices set out herein are the HP's recommended retail prices at the time of publication and include applicable taxes. Prices, promotions, specifications, availability and terms of offers set out herein may change without prior notice and are applicable for Malaysia only. Prices are only indicative and are exclusive of options, accessories and consumables. Despite our best efforts, a small number of items may contain pricing, typography, or photography errors. Acceptance of order is subject to validation of correct prices and promotions by HP. Prices and offers set out herein may vary from reseller prices and offers.