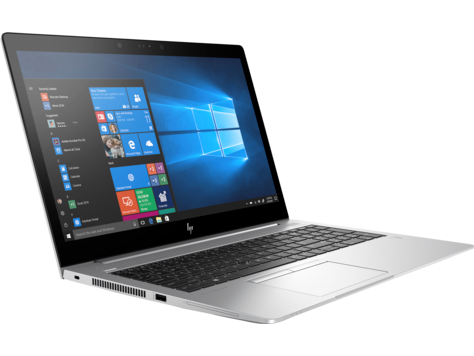 HP EliteBook Notebook PCs
HP EliteBook 850 G5 Notebook PC
Izaberite model
Posebna ponuda:
Posebne ponude:
Beautifully crafted with the modern professional in mind, the highly secure and manageable HP EliteBook 850 offers powerful collaboration tools, so you can be as productive as ever, on the go or at the office.
Windows 10 or other operating systems available
This ultra-slim, precision-crafted aluminum laptop with a narrow border display goes anywhere, and looks great doing it. An optional ultra-bright display12 adapts to any environment, for an optimal viewing experience wherever you work.
Built on a secure foundation
Crystal-clear collaboration
Calls sound crisp and clear with advanced collaboration features like HP Noise Cancellation. Loud top-firing speakers produce rich sound. The world-facing third microphone and collaboration keys help make PC calls productive.
A modern docking solution
Let nothing stand in your way
Power through your day with Windows 10 Pro1 and the powerful security, collaboration and connectivity features from HP.
High performance, high portability.
Help speed up demanding business applications with an optional 8th Gen quad-core Intel® Core™ processor8.
Powering your creativity
Power through creative applications using high resolution 4k displays with optional AMD Radeon™ RX540 Discrete Graphics6.
Preserve your privacy
Never wonder if someone is watching you with the added peace-of-mind that comes from the integrated HP Privacy Camera9, with a physical shutter to protect from malicious surveillance.
Firmware level protection
Protect your PC with the hardware-enforced self-healing protection of HP Sure Start Gen43 that automatically recovers the BIOS.
Protect critical security processes
Keep your critical applications and processes running even if malware tries to shut them down with self-healing protection10.
Protect identities with HP Multi-Factor Authenticate Gen2
Fortify your security with up to three authentication factors including fingerprints and facial recognition11.
Browse confidently
Help protect your PC from websites and in-browser .pdf files infected with malware, ransomware, or viruses with HP Sure Click4.
Windows 10 or other operating systems available
Operativni sistem

Porodica procesora

8th Generation Intel® Core™ i7 processor (i7-8650U)
8th Generation Intel® Core™ i7 processor (i7-8550U)
8th Generation Intel® Core™ i5 processor (i5-8350U)
8th Generation Intel® Core™ i5 processor (i5-8250U)
7th Generation Intel® Core™ i7 processor (i7-7600U)
7th Generation Intel® Core™ i7 processor (i7-7500U)
7th Generation Intel® Core™ i5 processor (i5-7300U)
7th Generation Intel® Core™ i5 processor (i5-7200U) 4

Procesor

Intel® Core™ i7-8650U vPro™ processor with Intel® UHD graphics 620 (1.9 GHz base frequency, up to 4.2 GHz with Intel® Turbo Boost Technology, 8 MB cache, 4 cores)
Intel® Core™ i7-8550U with Intel® UHD graphics 620 (1.8 GHz base frequency, up to 4 GHz with Intel® Turbo Boost Technology, 8 MB cache, 4 cores)
Intel® Core™ i7-7600U vPro™ processor with Intel® HD Graphics 620 (2.8 GHz base frequency, up to 3.9 GHz with Intel® Turbo Boost Technology, 4 MB cache, 2 cores)
Intel® Core™ i7-7500U with Intel® HD Graphics 620 (2.7 GHz base frequency, up to 3.5 GHz with Intel® Turbo Boost Technology, 4 MB cache, 2 cores)
Intel® Core™ i5-8350U vPro™ processor with Intel® UHD Graphics 620 (1.7 GHz base frequency, up to 3.6 GHz with Intel® Turbo Boost Technology, 6 MB cache, 4 cores)
Intel® Core™ i5-8250U with Intel® UHD Graphics 620 (1.6 GHz base frequency, up to 3.4 GHz with Intel® Turbo Boost Technology, 6 MB cache, 4 cores)
Intel® Core™ i5-7300U vPro™ processor with Intel® HD Graphics 620 (2.6 GHz base frequency, up to 3.5 GHz with Intel® Turbo Boost Technology, 3 MB cache, 2 cores)
Intel® Core™ i5-7200U with Intel® HD Graphics 620 (2.5 GHz base frequency, up to 3.1 GHz with Intel® Turbo Boost Technology, 3 MB cache, 2 cores) 2,3,4

Processor technology:

Intel® vPro™ Technology

Životna sredina

Low halogen
TCO 5.0 Certified 34

Dimenzije (Š x D x V)

37 x 25.2 x 1.83 cm

Težina

Starting at 1.78 kg (non-touch); Starting at 1.93 kg (touch)
(Weight will vary by configuration.)

Maksimalna memorija

32 GB DDR4-2400 SDRAM
(Dual channel support. )

Memory Slots:

2 SODIMM

Ekran

39.6 cm (15.6") diagonal FHD IPS anti-glare LED-backlit, 220 cd/m², 67% sRGB (1920 x 1080)
39.6 cm (15.6") diagonal FHD IPS LED-backlit touch screen with Corning® Gorilla® Glass 3, 220 cd/m², 67% sRGB (1920 x 1080)
39.6 cm (15.6") diagonal FHD IPS anti-glare LED-backlit, 400 cd/m², 100% sRGB (1920 x 1080)
39.6 cm (15.6") diagonal 4K IPS anti-glare LED-backlit, 400 cd/m², 100% sRGB (3840 x 2160)
HP Sure View Integrated Privacy Screen 39.6 cm (15.6") diagonal FHD IPS anti-glare LED-backlit, 650 cd/m², 100% sRGB (1920 x 1080)

11,13,14,15

Grafika

Integrated:
Intel® UHD Graphics 620
Intel® HD Graphics 620
Discrete:
AMD Radeon™ RX 540 (2 GB GDDR5 dedicated) 11

Portovi

1 Thunderbolt™ (USB Type-C™ connector)
2 USB 3.1 Gen 1 (1 charging)
1 HDMI 1.4b
1 RJ-45
1 docking connector
1 headphone/microphone combo
1 AC power
(HDMI cable sold separately.)

Zvuk

Bang & Olufsen, dual stereo speakers, 3 multi array microphone

Kamera

HD camera; HD IR webcam 11,12

Tastatura

HP Premium Collaboration Keyboard spill resistant with drain, optional backlit

Pokazivački uređaj

Clickpad with multi-touch gesture support, taps enabled as default

Mrežni interfejs

HP Module with NXP NFC Controller NPC300 I2C NCI
Intel® I219-LM GbE, vPro™
Intel® I219-V GbE, non-vPro™ 10

Bežična veza

Intel® Dual Band Wireless-AC 8265 802.11a/b/g/n/ac (2x2) Wi-Fi® and Bluetooth® 4.2 Combo, vPro™
Intel® Dual Band Wireless-AC 8265 802.11a/b/g/n/ac (2x2) Wi-Fi® and Bluetooth® 4.2 Combo, non-vPro™
Realtek 802.11ac (2x2) Wi-Fi® and Bluetooth® 4.2 Combo, non-vPro™
HP lt4132 LTE/HSPA+ Mobile Broadband Module
Intel® XMM™ 7360 LTE-Advanced 7,8,9

Senzori

Ambient light sensor 13

Energetska efikasnost

ENERGY STAR® certified and EPEAT® Gold registered 33

Električno napajanje

65 W USB Type-C™ adapter
45 W USB Type-C™ adapter
HP Smart 65 W External AC power adapter
HP Smart 65 W EM External AC power adapter
HP Smart 45 W External AC power adapter

31

Battery type:

HP Long Life 3-cell, 50 Wh Li-ion

Vek trajanja baterije

Up to 14 hours and 15 minutes 35
(Battery is internal and not replaceable by customer. Serviceable by warranty.)

Upravljanje bezbednošću

Absolute persistence module
HP BIOSphere Gen4
HP Device Access Manager
HP DriveLock and Automatic DriveLock
HP Fingerprint Sensor
HP Password Manager
HP Secure Erase
HP Security Manager
Power-on authentication
Preboot authentication
TPM 2.0 embedded security chip shipped with Windows 10 (Common Criteria EAL4+ Certified)
HP Sure Click
HP SureStart Gen4
Windows Defender 23,24,25,26,27,28,29,36

Softver

Native Miracast support
HP LAN Protection
HP Connection Optimizer
HP Velocity
HP 3D DriveGuard
HP ePrint Driver + JetAdvantage
HP Hotkey Support
HP Recovery Manager
HP JumpStart
HP Support Assistant
HP Noise Cancellation Software
HP PhoneWise
HP Client Security Gen4
Buy Office 9,16,17,18,19

Funkcije upravljanja

HP Driver Packs; HP System Software Manager (SSM); HP BIOS Config Utility (BCU); HP Client Catalog; HP Manageability Integration Kit Gen2; Ivanti Management Suite 20,21,22
Ocena i pregled HP EliteBook 850 G5 Notebook PC

 

( AVG / OCENE / PREPORUKE)
Obrazac sakrivanja