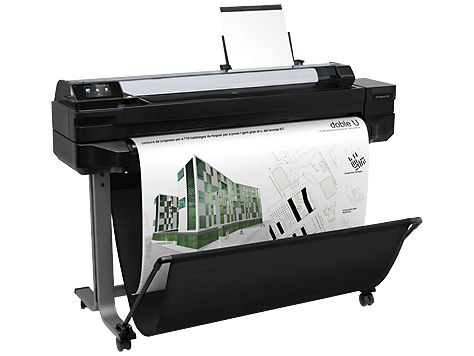 Office Printers for CAD and GIS
HP Designjet T520 36-in ePrinter
(CQ893A)
This item was added to the cart
$ 2,850
Monthly lease rates as low as $ 82
Special Offer:
Special Offers:
Reliable, accurate, and easy to use—this large-format, web-connected printer is a good investment for your studio. Grow your business with a convenient, large-format printer that allows you to work and print from virtually anywhere.1
Small AEC teams who need to print large-format documents and CAD drawings, print remotely, and network a small office.
Features
Fast and professional results
Achieve accurate lines, sharp details up to 2400 dpi from the first print with a long-life printhead.
Process complex files at high speeds, A1/D prints in 35 seconds, thanks to 1 GB RAM and HP-GL/2 technology.
Deliver architectural designs, maps, photos, and presentations with consistent, high-quality results.
Help reduce downtime and improve productivity by using Original HP inks.
Easy and convenient printing
The intuitive, full-color, 4.3-inch (109-mm) touchscreen simplifies navigation and printing.
Rely on true print previews from the driver to complete your work quickly and accurately.
Two printers in one. Print using the built-in A3/B+ tray and up to A0/E on the front-loading media roll.
Easily set up your printer and connect everyone in your workgroup, thanks to built-in Wi-Fi.2
Print from virtually anywhere1
Use your Apple® or Android™ smartphone or tablet to print from virtually anywhere.1
Access and print projects when you're away from your work place, using HP Designjet ePrint & Share.1
Automatically save copies of your work to the cloud when you print using HP Designjet ePrint & Share.1
Email projects to your HP Designjet T520 ePrinter and print, via its Web connectivity features.1
Model size

:

36 in

Functions

:

Print

Print time color image ISO N5 (best, D glossy paper)

:

11.4 min/page

Print time color image ISO N5 (normal, D glossy paper)

:

9.1 min/page

Print time color image ISO N5 (draft, D coated paper)

:

1.1 min/page

Print time color image ISO N5 (normal, D coated paper)

:

3.8 min/page

Print speed black line drawing (draft, US D plain paper)

:

70 D prints per hour

Print speed line drawing (economode, D plain paper)

:

70 D prints per hour

Memory, standard

:

Hard disk

:

Print quality (best)

Color: Up to 2400 x 1200 optimized dpi
Black: Up to 2400 x 1200 optimized dpi from 1200 x 1200 input dpi and Optimization For Photo Paper selected

Print technology

:

HP Thermal Inkjet

Number of print cartridges

:

4 (cyan, magenta, yellow, black)

Compatible ink types

:

Dye-based (C, M, Y)
pigment-based (K)

Non-printable area (cut-sheet)

:

0.2 x 0.67 x 0.2 x 0.2 in

Guaranteed minimum line width

:

0.0028 in (ISO/IEC 13660:2001(E))

Line accuracy

:

+/- 0.1%

Maximum optical density (black)

:

8 L* min/2.10 D

Finished output handling

:

Sheet feed
roll feed
input tray
media bin
automatic cutter

Media types

:

Bond and coated paper (bond, coated, heavyweight coated, recycled, plain, bright white), technical paper (natural tracing, vellum), film (clear, matte), photographic paper (satin, gloss, semigloss, premium, polypropylene), self-adhesive (adhesive, polypropylene)

Media sizes standard (sheets, rolls)

:

8.3 to 36-in wide sheets
11 to 36-in rolls

Media sizes, custom

:

Input tray: 8.3 x 11 to 13 x 19 in
manual feed: 13 x 19 to 36 x 74.7 in
roll: 11 to 36 in

Roll external diameter

:

3.9 in

Media thickness

:

Up to 11.8 mil

HP ePrint capability

:

Yes

Printing path

:

Printer driver, HP Designjet ePrint & Share, email printing, Apple AirPrint™

Connectivity, standard

:

Fast Ethernet (100Base-T)
Hi-Speed USB 2.0 certified
Wi-Fi

Print languages

:

HP-GL/2
HP-RTL
HP PCL 3 GUI
JPEG
CALS G4

Power consumption

:

< 35 watts (printing), < 4.5 watts (sleep), < 0.3 watts (standby)

Operating temperature range

41 to 104ºF
(5 to 40ºC )

Operating humidity range

:

20 to 80% RH

Minimum dimensions (W x D x H)

:

50.9 x 20.9 x 36.7 in

Weight

:

86.4 lb

Warranty

:

One-year limited hardware warranty

What's in the box

:

HP Designjet T520 ePrinter
printhead
ink cartridges
printer stand
spindle
quick reference guide
setup poster
startup software
power cord

Software included

:

HP Designjet Utility for Mac and Windows
HP Designjet ePrint & Share for Windows
Eco Highlights


Quick Links


HP is committed to providing our customers with information about the chemical substances in our products as needed to comply with legal requirements such as REACH (Regulation EC No 1907/2006 of the European Parliament and the Council). A chemical information report for this product can be found at: www.hp.com/go/reach.