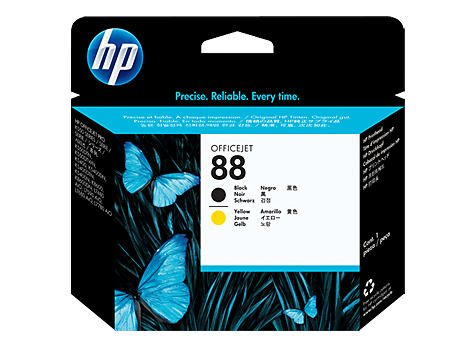 HP Inkjet Printer Cartridges and Ink Supplies
HP 88 Black and Yellow Original Printhead
(C9381A)
This item was added to the cart
Special offer:
Special offers:
Overview
High-impact documents. HP's design makes HP's inkjet technology the preferred choice for the office. You get crisp text, vibrant color and pinpoint accuracy every time. With legendary HP quality and reliability, there's no better value.
Features
HP's printhead technology, designed together with HP 88 inks, delivers crisp, black text and vibrant color with pinpoint accuracy. And innovative HP Smart technology1 in HP supplies and the printer ensures professional results, every time.
To keep pace with you, the HP 88 Printhead is designed together with new HP 88 inks to produce consistent, high-quality results, even at fast print speeds. With the reliability and quality of HP, you get an excellent value.
HP reliability means low maintenance, trouble-free printing. With HP printing supplies save time—and increase your productivity.
Color(s) of print cartridges

:

Black, yellow

Ink drop

:

9 pl

Operating temperature range

:

5 to 40°C

Storage temperature range

:

5 to 40°C

Storage humidity

:

20 to 80% RH

Package dimensions (W x D x H)

:

118 x 25 x 145 mm

Package weight

:

0.1 kg

Warranty

:

HP's inkjet print cartridges, ink cartridges and printheads are warranted to be free from defects in materials and workmanship during the period of the warranty.

What's in the box

:

1 Using genuine HP supplies ensures availability of all HP printing features
*Estimated U.S. retail price. Actual price may vary.

HP is committed to providing our customers with information about the chemical substances in our products as needed to comply with legal requirements such as REACH (Regulation EC No 1907/2006 of the European Parliament and the Council). A chemical information report for this product can be found at: www.hp.com/go/reach.