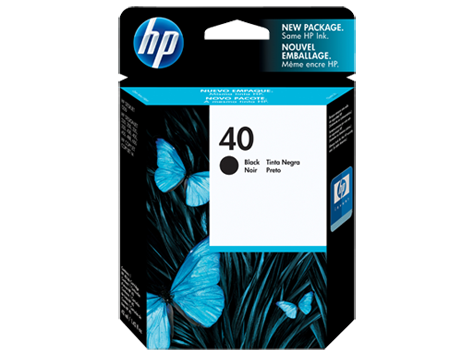 HP Inkjet Printer Cartridges and Ink Supplies
HP 40 Black Original Ink Cartridge
(51640A)
This item was added to the cart
Special offer:
Special offers:
Overview
The HP 40 Black Ink Cartridge is ideal for business or home users who want professional-quality copies and printouts. It uses pigmented ink to produce crisp, sharp characters on most bond/copier papers.
Features
Proprietary HP pigmented black ink provides dense, robust, fade-resistant printouts.
Clog-free performance throughout the life of the cartridge.
Original HP inkjet print cartridge provides reliable, professional-quality printing every time.
Visible ink-level indicator shows when it's time for a replacement.
Color(s) of print cartridges

:

Black

Ink drop

:

77 pl

Compatible ink types

:

Page yield (black and white)

:

Page yield not published for this cartridge.

Page yield footnote

:

Printer and cartridge technology were released prior to the 2005 ISO/IEC 24711 page yield standard.

Package dimensions (W x D x H)

:

115.82 x 25.4 x 157.48 mm

Package weight

:

0.16 kg

Warranty

:

HP's inkjet print cartridges, ink cartridges and printheads are warranted to be free from defects in materials and workmanship during the period of the warranty.

What's in the box

:
*Estimated U.S. retail price. Actual price may vary.

HP is committed to providing our customers with information about the chemical substances in our products as needed to comply with legal requirements such as REACH (Regulation EC No 1907/2006 of the European Parliament and the Council). A chemical information report for this product can be found at: www.hp.com/go/reach.