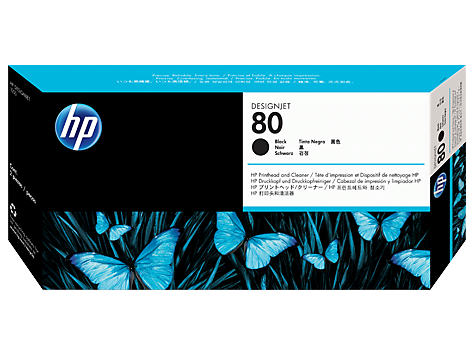 HP Graphic Arts Inks/Printheads
HP 80 Black DesignJet Printhead and Printhead Cleaner
(C4820A)
This item was added to the cart
Special offer:
Special offers:
Overview
HP 80 Printheads and Cleaners are engineered to work with the HP 80 Ink Cartridges as part of a modular ink system that delivers fast printing automatically. The printhead cleaner maintains the life and performance of the printhead.
Features
Engineered to work with HP 80 Ink Cartridges as part of a modular ink system
Breakthrough print speed - up to six times faster than HP DesignJet 700 series Printers, thanks to HP's new Jetexpress technology
Outstanding print quality without guesswork
Printhead cleaner bundled with printhead to extend printhead life and ensure consistent performance
Color(s) of print cartridges

:

Black

Ink types

:

Page yield footnote

:

Color line drawing in fast mode on HP Bright White Inkjet Paper, 5% coverage.

Storage temperature range

:

-40 to 60°C

Package dimensions (W x D x H)

:

114 x 36 x 264 mm

Package weight

:

0.17 kg

Warranty

:

Until the "Warranty Ends" date has been reached or the warranted usage limit has been reached, whichever occurs first.
HP is committed to providing our customers with information about the chemical substances in our products as needed to comply with legal requirements such as REACH (Regulation EC No 1907/2006 of the European Parliament and the Council). A chemical information report for this product can be found at: www.hp.com/go/reach.