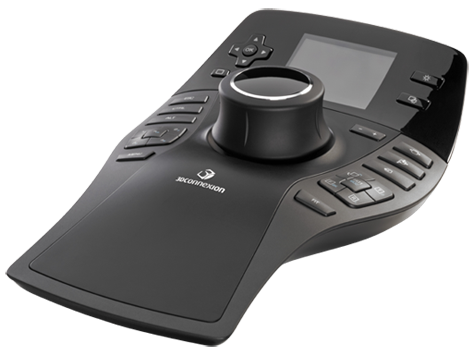 HP SpacePilot Pro USB 3D Input Device
(WH343AA)
This item was added to the cart
Special offer:
Special offers:
Overview
HP SpacePilot Pro USB 3D Input Device
Features
3D motion controller cap – With six degrees of freedom sensing technology, move intuitively in a single axis or in multiple axes at the same time simply by pushing, pulling, twisting, and/or tilting the control cap. This is especially valuable when working with multiple 3D enabled applications because the SpacePilot Pro standardizes the control of 3D objects; you no longer need to remember each application's unique control key sequence for 3D movement.
Color LCD Workflow Assistant Display – The full-color LCD delivers at-a-glance visibility of e-mail, tasks, calendar entries and function key commands ensuring quick access to key information without interrupting your workflow
QuickView Navigation Keys – provide fingertip access to 32 standard views giving an unparalleled level of control that encourages model exploration leading to improved error detection and design quality.
Intelligent Function Keys – Five new fully customizable, dual-function Intelligent Function keys provide instant access to 10 frequently used commands. SpacePilot PRO recognizes the active application and work environment and automatically assigns the appropriate commands. The color LCD provides visual feedback.
Ergonomic design – The soft coated, sculpted wrist rest positions the hand perfectly while the compact controller cap guides your fingers into the ideal position for precise and effortless control. The most frequently used function keys are conveniently positioned, ensuring a comfortable working experience, even for the longest design sessions.
The SpacePilot Pro is compatible with all HP Z series workstations running Microsoft® Windows® XP Pro, Vista or Windows 7 in either 32-bit or 64-bit modes.
Specifications

Weight

1.94 lb (880.0 g)


(with cable)

Dimensions (W x D x H)

9.1 x 5.9 x 2.3 in (231.0 x 150.0 x 58.0 mm)

What's in the box

:

HP SpacePilot Pro USB 3D Input Device; documentation

Warranty

:

The HP SpacePilot Pro from 3Dconnexion has a three-year limited warranty or the remainder of the warranty of the HP product in which it is installed. Technical support is available seven days a week, 24 hours a day, by phone, as well as online support forums. Certain restrictions and exclusions apply.