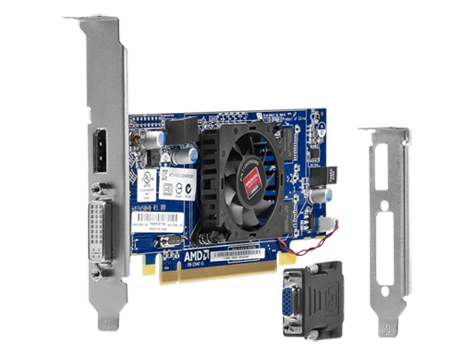 AMD Radeon HD 7450 DP (1GB) PCIe x16 Graphics Card
(B1R44AA)
Price 
This item was added to the cart
Special Offer:
Special Offers:
Overview
The AMD Radeon HD 7450 DP (1GB) PCIe x16 Graphics Cards provide a low profile, PCI Express x16 graphics add-in card solution based on the AMD Radeon™ HD 7450 Graphics Processor. These cards support dual displays with its DisplayPort and dual link DVI connectors. An ideal solution for desktop PC customers seeking stable 2D and advanced 3D graphics performance, the AMD Radeon HD 7450 DP (1GB) PCIe x16 Graphics Cards are an excellent choice for small business users engaging in Web conferencing or video or photo editing, while improving your everyday business PC experience with better graphics and excellent visual display quality.
Features
Has flexibility for new applications and enhanced performance
Full 16 lane PCIe bus support with peak bandwidth support
Conforms to full PCI Express 2.0A specification for low profile form factor (x16 lanes native PCI Express implementation)
Provides dual-link (DL) DVI-I and DisplayPort output ports. DVI-to-VGA adapter for VGA output support included
DisplayPort connector supports Multimode technology to support connection to DVI-D, VGA and HDMI monitors with optional adapters in kits NR078AA, FH973AT, BP937AA, AS615AA
Specifications

Hardware compatibility

:

The AMD Radeon HD 7450 (1GB) DP PCIe x16 Graphics Card is compatible with the HP Compaq 4000 Pro SFF, HP Compaq 6005 Pro MT, HP Compaq 6005 Pro SFF, HP Compaq 6200 Pro MT, HP Compaq 6200 Pro SFF, HP Compaq 8200 Elite SFF, HP Compaq 8200 Elite CMT, HP Compaq 8200 Elite MT. NOTE: Not all models are available in all regions.

What's in the box

:

AMD Radeon HD 7450 DP (1GB) PCIe x16 Card with full height bracket attached; DVII to VGA adapter; Software CD with graphics drivers; Low profile bracket to convert the card for using in a low profile chassis; Warranty documentation

Warranty

:

Your Option Limited Warranty is a one (1) year (HP Option Limited Warranty Period) parts replacement warranty on any HP-branded or Compaq-branded options (HP Options). If your HP Option is installed in an HP Hardware Product, HP may provide warranty service either for the HP Option Limited Warranty Period or the remaining Limited Warranty Period of the HP Hardware Product in which the HP Option is being installed, whichever period is the longer but not to exceed three (3) years from the date you purchased the HP Option.


HP is committed to providing our customers with information about the chemical substances in our products as needed to comply with legal requirements such as REACH (Regulation EC No 1907/2006 of the European Parliament and the Council). A chemical information report for this product can be found at: www.hp.com/go/reach.