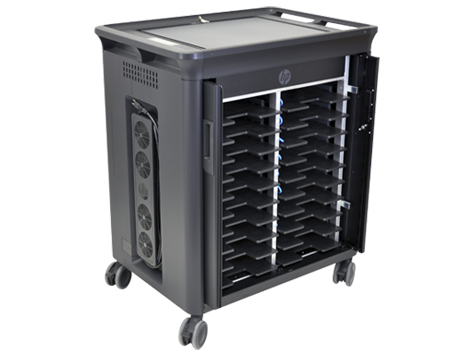 HP 20-Notebook Charging Cart
(QL488UT)
This item was added to the cart
Special offer:
Special offers:
Overview
HP 20-Notebook Charging Cart
Features
Open Architecture: Compatible with a large variety of HP and non-HP notebooks, up to 15.6 inch screen size
Smart Charging Technology: Load-sensing technology directs charging power when and where it's needed most, so each notebook is charged as quickly as possible.
Retractable Front Doors: Two locking, hinged front doors on the notebook bay open from the center and retract into the cart's side channels for neat storage.
Removable Shelves: Lightweight, shelves feature hand cut-outs for easy notebook removal and venting for optimal cooling/airflow. Removable shelves and pegs allow extra storage space inside the cart. Shelf insertion/removal is done through a simple peg and notch system.
Service Compartments: Two locking, removable rear panels allow access to the AC adapters (Charging Cart) and Ethernet cabling (Managed Charging Carts). The top locking panel on the top surface of the cart is removable for access to IT equipment (i.e. WAP/router, Ethernet switch(es) and controller box). For the Managed Charging Carts, switch(es) and WAP/router are purchased separately and customer-installed.
The HP 20-Notebook Charging Cart is compatible with notebooks from 10.1 up to 15.6 inch (25.65 up to 39.62 cm) screen size. NOTE: Due to height limitations of the notebook bay, the following externally-attached batteries cannot be used with the HP Notebook Charging Carts: AJ359AA, AT486AA, BJ803AA, QK639AA, QK640AA, QK645AA, RX932AA.
Specifications

Weight

:

170 lb

Minimum dimensions (W x D x H)

:

35.25 x 24.8 x 42.0 in

What's in the box

:

Cart; 1 HP AC Adapter; Documentation

Warranty

:

HP Managed and Unmanaged Notebook Charging Carts are supported by a one-year limited warranty. Additional support is available by phone as well as online support forums.