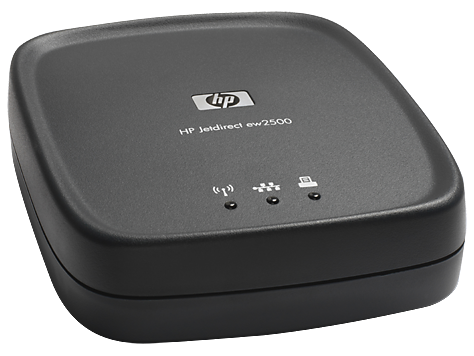 HP Jetdirect ew2500 802.11b/g Wireless Print Server
(J8021A)
Product may not be available direct from HP currently
Special offer:
Special offers:
Integrate printers and MFPs into your wireless network with added security. Send and print documents protected by IPsec, 802.11x and several encryption options. Plus, setup and installation are easy for a variety of printers, systems and protocols.
Wide range of printing environments seeking to integrate printers and MFPs securely into their wireless network.
Features
Protect your wireless printing data.
Get fast authentication and point-to-point encryption across your IP network with IPsec.
Protect your data with several security features—802.1x, SNMPv3, WPA2 Enterprise (including EAP-TLS, PEAP, LEAP, CCMP, AES and TKIP) and WEP encryption.
Experience the next-generation network features of IPv6—more IP addresses and improved routing and autoconfiguration.
Share printers on a wireless or Ethernet network.
Share your printer wirelessly across a 802.11b/g wireless network.
Get fast, wired connectivity with 10/100Base-TX Fast Ethernet support.
Connect to a broad range of operating systems, network protocols and HP printers.
Get connected fast with easy setup.
Installation is easy. Connect, configure and get straight to printing.
Easily set up wireless printing, using the HP Install Network Printer Wizard.
Monitor the server status with convenient status lights and a test button.
Manage your printers remotely, using HP Web Jetadmin.
Network types:

Wireless Ethernet (802.11b/g)
Ethernet
Fast Ethernet
802.3
RJ-45 (10/100Base-TX)

Ports:

1 Hi-Speed USB 2.0
1 Ethernet
1 Wireless Ethernet

Print server type:

External

Security management:

Management security: SNMPv3, SSL/TLS (HTTPS), IPsec/Firewall
Port authentication (802.1x): Wired (EAP-PEAP, EAP-TLS), Wireless (EAP-PEAP, LEAP, EAP-TLS)
Wireless network security: WPA, WPA2 authentication
AES, TKIP, WEP (40/64-bit and 104/128-bit) encryption

Network upgradeable firmware:

Yes

Memory

Flash memory:8 MB
Standard memory:32 MB

Printer Management:

HP Web Jetadmin

Embedded web server:

Yes

EPP and ECP supported:

No

Print job buffering supported:

No

IPP supported:

Yes

Network protocols, supported:

IPv4/IPv6: Apple Bonjour compatible, SNMPv1/v2c/v3, HTTP, HTTPS, FTP, TFTP, Port 9100, LPD, IPP, Secure-IPP, WS Discovery, WS Print, IPsec/Firewall
IPv6: DHCPv6, MLDv1, ICMPv6
IPv4: Auto-IP, SLP, Telnet, IGMPv2, BOOTP/DHCP, WINS, IP Direct Mode

Supported Browsers:

Internet Explorer 6.0 or higher
Mozilla 2.x or higher
Firefox 2.x or higher
Safari
Chrome

Printer supported:

HP Business Inkjet Printer series: 2300, 2800
HP Color LaserJet Printer series: CP1025, CP1525, CP1515, CP1518, CP2025, CP3505, CP3525, CP4005, CP4025, CP4525, CP5225, CP5525, CP6015, 2600, 2605, 2700, 3000, 3600, 3800, 4700, 5550
HP LaserJet Printer series: P1606, P2014, P2015, P2035, P2055, P3005, P3015, P4014, P4015, P4515, 1160, 1320, 4240, 4250, 4350, 5200
HP Officejet Pro Printer series: K550, K850, K5300, K5400, K8600*, 8000
HP Officejet Pro AiO Printer series: L7300 AiO*, L7500 AiO*, L7600 AiO*, L7700 AiO*, 8500 AiO*, 8500A AiO*
HP Color LaserJet MFP series: CM1015 MFP*, CM1017 MFP*, CM3530 MFP*, CM4540 MFP*, CM4730 MFP*, CM6030 MFP*, CM6040 MFP*, 2820 AiO*, 2840 AiO*, 4730 MFP*
HP LaserJet MFP series: M3027 MFP*, M3035 MFP*, M4345 MFP*, M4555 MFP*, M5025 MFP*, M5035 MFP*, M9040 MFP*, M9050 MFP*, 3050 AiO*, 3052 AiO*, 3055 AiO*, 3380 AiO, 3390 AiO*, 3392 AiO*. *Note: support printing only, no software scan or Webscan on this device

Minimum dimensions (W x D x H):

3.9 x 5.1 x 1.3 in

Weight:

0.31 lb

Warranty:

One-year limited hardware warranty; 90-day warranty (software) on HP Jetdirect CD-ROM

What's in the box:

HP Jetdirect ew2500 802.11b/g Wireless Print Server
Quick installation guide
CD-ROM with HP Installation Software and documentation
Power adapter
Localized Power cord
USB cable
Ethernet LAN cable

Software included:

HP Install Network Printer Wizard; HP Jetdirect Assistant
Rate & Review HP Jetdirect ew2500 802.11b/g Wireless Print Server

 

( average / RATINGS / RECOMMENDS)

Your review has been submitted. Please note that your review may need to be reviewed and may not post immediately Sorry, your review can't be submitted. Please, try again later. rate & write a review
Hide Form
© Copyright 2018 HP Development Company, L.P.