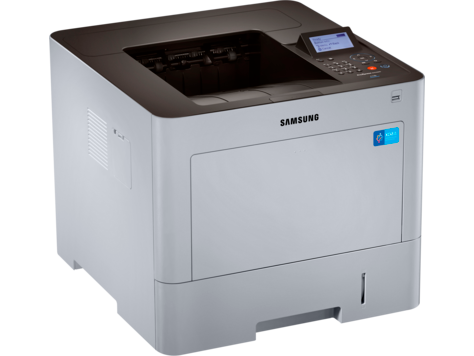 Samsung Office Black and White Laser Printers
Samsung ProXpress SL-M4530ND Laser Printer
(SS397E)
Special offer:
Special offers:
The ProXpress M4530ND offers cost-effective printing. Its toner capacity enables more prints with fewer cartridge replacements. The high-powered processing supports fast, efficient performance for enterprises of all sizes.
Print withexcellent speed and professional quality
Accelerate business with a 1 GHz dual-core CPU
Deliver prints at an impressive 45 pages per minute
Sharpen your text and images with ReCP technology1
Minimize print costs with high-yield consumables
Lower expenses with higher-capacity toner and drum
Features
Accelerate business with a 1GHz dual-core CPU
Your time is valuable. That's why we've cut the wait for printouts with a 1 GHz dual-core CPU, delivering prints at an impressive 45 pages per minute. Work performance is faster, smoother and efficient—the way is should be.
Sharpen your text and images with ReCP technology
Samsung Rendering Engine for Clean Pages(ReCP) puts your business in the best light with brilliant, professional-caliber prints. Sharp edges and clean, thin lines improve readability and imagery so your message comes across perfectly clear.
Lower expenses with higher-capacity toner (40K) and drum (100K)
Get the most out of your resources with ultra-high-yield consumables. A 40,000-page toner and 100,000-page drum capacity sustain your heavy printing for longer, with fewer replacements and lower costs.
1 ReCP stands for Rendering engines for Clean Pages
2 Samsung Electronics Co., Ltd. inspires the world and shapes the future with transformative ideas and technologies, redefining the worlds of TVs, smartphones, wearable devices, tablets, cameras, digital appliances, printers, medical equipment, network systems and semiconductors. We are also leading in the Internet of Things space through, among others, our Digital Health and Smart Home initiatives. We employ 307,000 people across 84 countries. To discover more, please visit our official website at www.samsung.com and our official blog at global.samsungtomorrow.com. Copyright © 2016 Samsung Electronics Co., Ltd. All rights reserved. Specifications and designs are subject to change without notice. Non-metric weights and measurements are approximate. All data were deemed correct at time of creation. Samsung is not liable for errors or omissions. All brand, product, service names and logos are trademarks and/or registered trademarks of their respective owners and are hereby recognized and acknowledged.
Functions:

Print speed black:

Normal: Up to 47 ppm

First page out (ready)

Black: As fast as 6.5 sec

Duty cycle (monthly, A4)

Up to 200,000 pages

Print technology:

Print quality black (best):

Print Resolution Technologies:

ReCP

Print languages:

PCL5, PCL6, PS3, PDF V1.7

Display:

Processor speed:

1000 MHz

Automatic paper sensor:

No

Replacement cartridges

Standard Toner Cartridge (~ 7,000 yield) MLT-D304S
High yield Toner Cartridge (~ 20,000 yield) MLT-D304L
Extra High yield Toner Cartridge (~ 40,000 yield) MLT-D304E
Imaging Unit (~100,000 pages) MLT-R304



Mobile printing capability

Apple AirPrint™
Mopria™ Certified
Wireless direct printing
Mobile Apps
Samsung Cloud Print
Google Cloud Print™

Network capabilities:

Via built-in 10/100/1000 Base-TX Ethernet, Gigabit
Auto-crossover Ethernet
authentication via 802.1X

Wireless capability:

Optional Wi-Fi 802.11 b/g/n
Authentication via WEP, WPA/WPA2, WPA Enterprise
Encryption via AES or TKIP
WPS
Wireless Direct Printing

Connectivity, standard:

Hi-Speed USB 2.0 port, Host USB
built-in Gigabit Ethernet 10/100/1000 Base-TX network port

Minimum system requirements

Windows® XP (SP3) (32-bit)or newer, 933 MHz processer or higher, 128 MB RAM, 1.5 GB HD space, CD-ROM or Internet, USB or Network connection




OSX 10.5 or newer
Internet
USB or Network connection
1 GB HD space
1 GB RAM

Compatible operating systems

Windows®: XP (32/64 bit), 2003 Server (32/64 bit), Vista (32/64 bit), 2008 server (32/64 bit), 7 (32/64 bit), 2008 Server R2, 10 (32/64 bit), 2012 Server, 2016 Server
MAC OS 10.5 - 10.11
Linux: Red Hat Enterprise Linux (5, 6, 7), Fedora (15, 16, 17, 18, 19, 20, 21, 22), openSUSE (11.4, 12.1, 12.2, 12.3, 13.1, 13.2), Ubuntu (11.04, 11.10, 12.04, 12.10, 13.04, 13.10, 14.04, 14.10, 15.04, 15.10), SUSE Linux Enterprise Desktop (11, 12), Debian (6, 7, 8), Mint (13, 14, 15, 16, 17)
Unix: Sun Solaris 9, 10, 11 (x86, SPARC), HP-UX 11.0, 11i v1, 11i v2, 11i v3 (PA-RISC, Itanium), IBM AIX 5.1, 5.2, 5.3, 5.4, 6.1, 7.1 (PowerPC)

Memory:

512 MB

Maximum memory

2 GB

Internal Storage:

Optional, 320 GB HDD (user available space: 279 GB)

Paper handling input, standard:

550-sheet input tray
100-sheet multipurpose tray
optional 3 x 550-sheet input trays

Paper handling output, standard:

Maximum output capacity (sheets):

Up to 500 sheets

Duplex printing:

Media sizes supported:

Tray 1: A4, A5, A6, B5 (ISO), B5 (JIS), Oficio, Envelope (DL, C5, C6), Tray 2: A4, A5, A6, B5 (ISO), B5 (JIS), Oficio

Media sizes, custom:

Tray 1: 76 x 127 to 216 x 356 mm; Tray 2: 98 x 148 to 216 x 356 mm;

Media types:

Plain, Thick, Thin, Cotton, Color, Preprinted, Recycled, Lables, CardStock, Bond, Archive, Envelope

Supported media weight:

Tray 1: 60 to 220 g/m²; Tray 2: 60 to 163 g/m²

Power:

110-volt input voltage: 110 to 127 VAC, 50/60Hz and 220-volt input voltage: 220 to 240 VAC, 50/60Hz

Power consumption

850 watts (Printing), 16 watts (Ready), 1.5 watts (Sleep),

Energy efficiency:

ENERGY STAR® qualified
EPEAT® Bronze

Operating temperature range:

10 to 30°C

Recommended operating humidity range:

20 to 70% RH (non-condensing)

Acoustic power emissions (ready)

4.2 B (A)

Acoustic pressure emissions bystander (active, printing)

54 dB (A)

Minimum dimensions (W x D x H):

433 x 459.5 x 390.7 mm

Maximum dimensions (W x D x H):

673 x 773 x 1086.7 mm

Weight:

22 kg

Package dimensions (W x D x H):

563 x 580 x 604 mm

Package weight:

27.2 kg

What's in the box

Power cord(s)
Toner cartridge(s)
User Guide
warranty card
CD

Cable included:

No, please purchase USB cable separately

Warranty:

Warranty varies by country. Please contact customer service for information.
Rate & Review Samsung ProXpress SL-M4530ND Laser Printer

 

( average / RATINGS / RECOMMENDS)

Your review has been submitted. Please note that your review may need to be reviewed and may not post immediately Sorry, your review can't be submitted. Please, try again later. rate & write a review
Hide Form
HP is committed to providing our customers with information about the chemical substances in our products as needed to comply with legal requirements such as REACH (Regulation EC No 1907/2006 of the European Parliament and the Council). A chemical information report for this product can be found at: www.hp.com/go/reach.