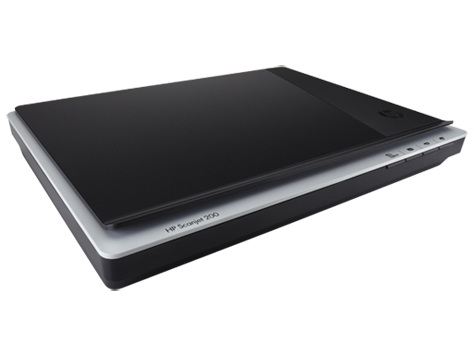 HP Scanjet 200 Flatbed Photo Scanner
(L2734A)
Special offer:
Special offers:
Capture high-quality images and start sharing quickly. Scan at high resolution, edit photos, and save documents to digital files. One-touch scan-to buttons let you start working fast. Place this compact, easy-to-use scanner almost anywhere.
Features
Experience high-quality photo and document scanning.
Scan important photos and get precise results. Capture crisp image detail at up to 2400 x 4800 dpi resolution, 48-bit colour1.
Enjoy fast, convenient scanning of photos and images to Internet sharing sites
Scan important paperwork, photos, and everyday documents into easy-to-access digital files.
Finish jobs faster – scan a 10 x 15 cm (4 x 6-inch) photo in as fast as 21 seconds at 200-dpi resolution1 .
Start working fast with easy-to-use functions and quick setup.
Create the prints you need: use the ArcSoft PhotoStudio 6 photo-editing software included to easily edit, search, and organise images for printing in multiple sizes.
Save time with convenient one-touch scanning capabilities. Capture and send images directly to email or PDF – and print or copy images with just a touch.
Get to work quickly with an intuitive interface with easy-to-use controls. Plug in and set up fast with a single cable.
Save space: this compact scanner fits almost anywhere you need it.
Set up and work where you want—this compact, landscape-oriented scanner can fit almost anywhere in your home or office.
Scan books, magazines, and bound materials with ease, using the scanner's floating-hinged lid for high clearance.
Eliminate the need for a power cable – this USB-powered scanner saves energy by plugging directly into your PC2.
Scanner type:

Flatbed

Scan resolution, optical:

Up to 2400 dpi

Enhanced scanning resolution:

Up to 19200 dpi

Duty cycle (daily):

26,000 scan minimum life time

Bit depth:

48-bit

Levels of grayscale:

256

Task speed:

10 x 15 cm colour photo to file (200 dpi, 24-bit, tiff): about 21 sec for single image scan
OCR A4 text page to Microsoft Word: about 30 sec for single image scan
10 x 15 cm colour photo to share/e-mail (150 dpi, 24-bit): about 37 sec for single image scan
A4 PDF to e-mail (300 dpi, 24-bit): about 37 sec for single image scan

Scan size, maximum:

216 x 297 mm (restricted by scan image file size of 2 GB for Windows, 1 GB for Mac, 1 GB for Linux)

Media types:

Paper (plain, inkjet, photo, newsprint, magazine articles)

Scan file format:

Windows & Linux: BMP, JPEG, GIF, TIFF, TIFF Compressed, PNG, PCX, FlashPix (FPX), PDF, PDF searchable, RTF, HTM, TXT; Mac: TIFF, PICT, JPEG, GIF, FlashPix, Plain Text, PDF, HTML, Rich Text. Mac HP Scan supports : TIFF, PNG, JPEG, JPEG 2000, PDF, PDF-Searchable, RTF, TXT: TIFF, PNG, JPEG, JPEG 2000, PDF, PDF-Searchable, RTF, TXT. Mac Image Capture supports: TIFF, PNG, JPEG, JPEG 2000, GIF, BMP, PDF

Scan input modes:

Four front panel button (Scan, Copy, Scan to PDF, Scan to e-mail); HP Solution Center; and user application via TWAIN

Control panel:

Four front panel button (Scan, Copy, Scan to PDF, Scan to e-mail)

Compatible operating systems

Windows 10, Windows 8, Windows 7, Windows Vista
Mac OS X v10.6.8, OS X Lion, OS X Mountain Lion or later

Mac compatible:

Connectivity, standard:

Connectivity, optional:

Twain version:

Version 1.9

Power consumption

2.5 watts (maximum), 0.5 watts (standby), 0.0125 watts (manual-off)

Energy efficiency:

ENERGY STAR® qualified

Operating temperature range:

10 to 35° C

Operating humidity range:

15 to 80% RH (non-condensing)

Minimum dimensions (W x D x H):

373 x 274 x 44.5 mm

Weight:

1.76 kg

Warranty:

One-year next business day exchange warranty, Web support included. Warranty may vary by country as required by law. Go to http://www.hp.com/support to learn about HP world-class service and support options in your region.

What's in the box:

HP Scanjet 200 Flatbed Photo Scanner
Install Guide
CD-ROM
Flyers
Warranty Sheet/Card
1 Mini USB cable

Software included:

Windows: HP Scanning Software (includes OCR); Mac: HP Scanjet Software (includes OCR); ArcSoft PhotoStudio v6; Windows/Mac: Readiris OCR

Cable included:

Yes, Mini-USB cable
Rate & Review HP Scanjet 200 Flatbed Photo Scanner

(5.0 average / 2 RATINGS / 0 RECOMMENDS)

Your review has been submitted. Please note that your review may need to be reviewed and may not post immediately Sorry, your review can't be submitted. Please, try again later. rate & write a review
Hide Form


* Prices are recommended retail price and may fluctuate as a result of Dollar/Rand exchange. Subject to availability.
© Copyright 2017 HP Development Company, L.P.