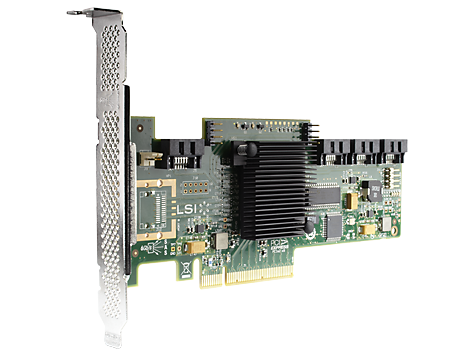 LSI 9212-4i SAS 6GB 4-port RAID Card
(XP310AA)
Special offer:
Special offers:
Overview
LSI 9212-4i SAS 6GB 4-port RAID Card
Features
6 Gb/s per port, 4 internal ports
Connects to both SAS and SATA drives
5GT/s, 8-lane PCI Express 2.0 interface
MD-2 small form-factor design
Fusion-MPT architecture featuring over 290,000 I/Os per second
The LSI 9212 SAS HBA is compatible with the HP Z400 and Z600 workstations. NOTE: Not all models are available in all regions.
Specifications

What's in the box

:

Controller card; driver CD; LED cables; user documentation and warranty card

Warranty

:

The LSI 9212 SAS HBAs have a one-year limited warranty or the remainder of the warranty of the HP host workstation (which ever is longer) in which they are installed. Technical support is available seven days a week, 24 hours a day by phone, as well as in online support forums. Certain restrictions and exclusions apply.