HP 771A 3-pack 775-ml Yellow DesignJet Ink Cartridges Features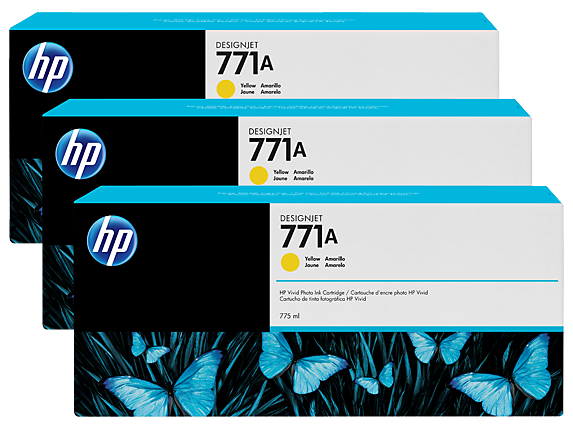 Deliver a versatile array of print jobs
Offer high-quality prints for a wide range of applications—from photo reproductions and POP displays to line drawings, even backlits with rich black backgrounds. With HP Vivid Photo Inks, color stays true when viewed in various lighting conditions.
Using HP chromatic red ink, your HP Designjet printing system provides the broad color gamut needed to produce vibrant color and deep, rich blacks and to achieve true photo-realistic image quality. High, uniform gloss provides the professional finish.
HP Vivid Photo Inks produce remarkable black-and-white prints—see a wide range of blacks and grays with smooth, subtle transitions, true gray neutrality, and rich black density. See images free of color casts, smooth grayscales, and crisp, sharp line drawings.
Achieve exceptionally fade-resistant results. Prints produced with pigment-based HP Vivid Photo Inks on a range of HP media offer indoor, in-window display permanence over 1 year unlaminated; over 200 years away from direct sun. [1]
Increase responsiveness with hassle-free printing
HP Vivid Photo Inks deliver high image quality at high speed. Ultra-pure pigments, exclusive ink dispersion technology, and rigorous testing ensure that ink flows freely to provide brilliant, vivid color with every print.
To ensure consistent print quality and professional results with every print, intelligent technology built into Original HP ink cartridges, printheads and the printer makes automatic and continuous adjustments to optimize print quality and accuracy.
Pull off the print, move on to the next step in your workflow, and impress your customers with your responsiveness. HP Vivid Photo Inks produce durable prints that you can handle without taking special care, and without losing precious time.
The broad HP graphics and technical media portfolio provides choice, quality, and more. Impress your customers with HP recyclable media[2] and FSC™ certified papers.[3] Explore HP bond papers with ColorPRO Technology and HP instant-dry photo papers.
Commit, confident your customers will be satisfied
Keep interruptions for changing cartridges to a minimum with 775-ml HP 771 Designjet Ink Cartridges. Take advantage of the cost savings and convenience of having extra cartridges on-hand with 3-packs.
Intelligent technology built into Original HP ink cartridges, printheads, and your Designjet printing system sends alerts when supplies need to be replaced. It's easy to identify and install the individual ink cartridge color you need to replace.
Differentiate your business by offering HP recyclable media.[2] You and your customers can take advantage of this free program. Simply pack up eligible printing materials. HP picks up the shipping expense and handles sorting and recycling.
HP printing supplies are designed with the environment in mind and for uncompromised quality and reliability. Take advantage of the free, convenient HP Planet Partners program to return and recycle your HP 771 ink cartridges.[4] See http://www.hp.com/recycle.
[1] Display permanence rating for interior displays/away from direct sunlight by HP Image Permanence Lab, and by Wilhelm Imaging Research, Inc. on a range of HP media. Interior in-window display ratings by HP Image Permanence Lab on a range of HP media. For details: http://www.globalbmg.com/hp/printpermanence.
[2]HP offers the HP Large-format Media take-back program in North America and Europe through which most HP recyclable media can be returned, availability varies. Some recyclable papers can be recycled through commonly available recycling programs. For details visit http://www.hp.com/recycle. Aside from this program, recycling opportunities for these products are currently only available in limited areas. Customers should consult local recycling resources for recycling these products.
[3]Trademark license code FSC-C017543.
[4]In the circa 50 countries and territories in which the HP Planet Partners program operates. Program features and availability varies.