HP Instant Ink Prepaid Card ($5) - 50/100/300-page Plan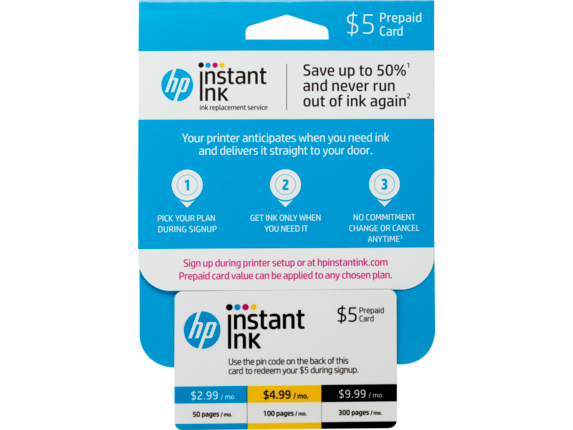 Save up to 50% and never run out of ink.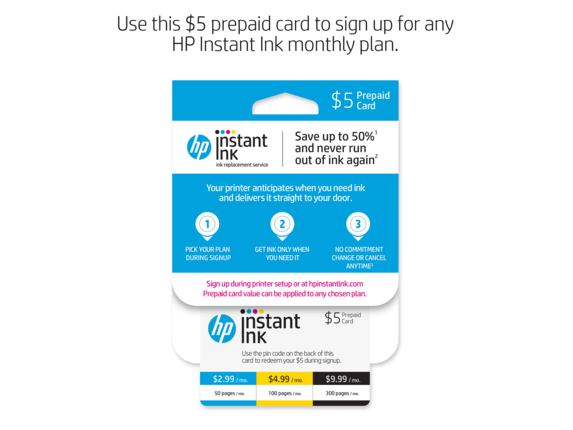 Pick your plan during sign-up.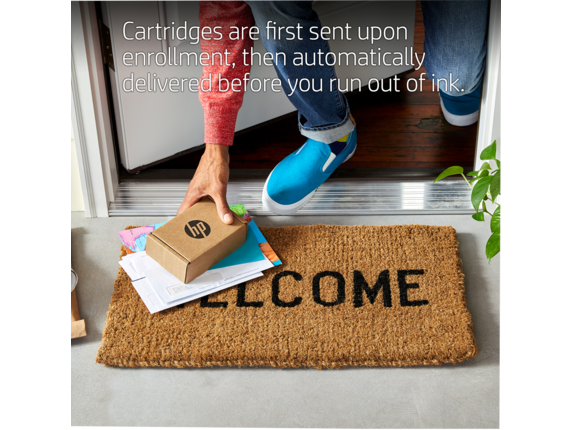 Get Ink only when you need it.
Getting started
[1] Save up to 50% on ink—based on monthly subscription cost using only all pages in plan vs. cost per page of most color inkjet cartridge printers < $399. Share of New Inkjet Unit Shipments (< $399) for 2018Q1 period in the US from IDC 2018Q1 Final Release. Standard cartridge CPP from gap intelligence 7/24/18.
[2] Get ink when you need it—based on plan usage, Internet connection to eligible HP printer, valid credit/debit card, email address, and delivery service in your geographic area.
[3] Change or cancel your plan at any time online. If you decide to cancel your HP Instant Ink plan you can go back to using HP original Standard or XL cartridges. Plan upgrades are effective immediately and the charges will be applied retrospectively or in the next billing cycle, depending on user choice. Plan downgrades and cancellations are effective after the last day of the current billing period. For full details go to instantink.hpconnected.com/terms.
[4] Rollover allows unused pages in a month to be placed in a rollover account and then applied to pages in excess of your monthly allowance. The rollover account balance is limited to a maximum or your monthly service plan pages (e.g: $2.99 50 pages = 50 page rollover maximum).
Terms & Conditions: Valid only for Instant Ink service in U.S. Requires creation of HP Connected and Instant Ink accounts and acceptance of terms of service at instantink.hpconnected.com/terms. Compatible HP printer, internet connection to printer, valid credit or debit card, and email address required. You must be 18+ and in U.S. No refunds and not redeemable for cash, except as required by law. Void where prohibited. HP is not responsible for lost or stolen enrollment card or key. Once key is entered, entire value of card is redeemed. When redeemed, card value is credited to your Instant Ink account and applied to your first month's service fee, after which your credit or debit card will be charged for subsequent months. Service is month-to-month, with cancellation effective at end of then-current billing period. Overage fees apply. HP reserves right to increase prices. Maximum enrollment of 10 printers. Use with printing or copying business prohibited. Not for resale. Subject to complete terms of service at hpinstantink.com.