HP 83 680-ml Black DesignJet UV Ink Cartridge Features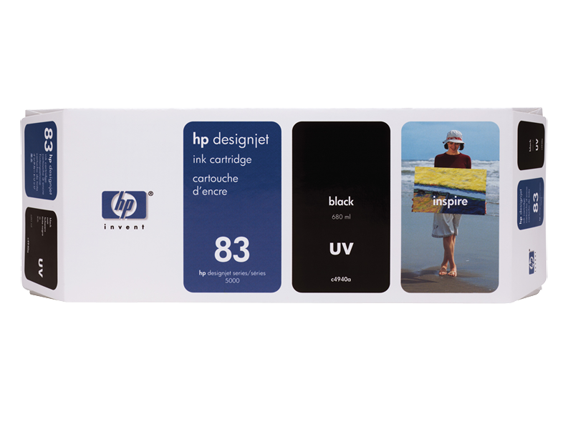 Outstanding print quality
Patented HP 83 UV ink formulations produce superb, color-rich images across a broad variety of printing material. UV-resistant, pigment-based inks work with sophisticated coatings on HP printing material to produce images that resist fading for over 100 years.[2]
Specially formulated inks support instant dry time[3] to increase productivity and facilitate immediate lamination (using HP Productivity Gloss media and HP Premium Coated and Heavyweight Coated printing material).
Smart printing technology[4] in the system of HP 83 UV Ink Cartridges, Printheads and HP DesignJet printer monitors nozzle health and makes automatic and continuous adjustments to optimize print quality.
Patented ink formulations in HP 83 UV Ink Cartridges produce ultra-small drop sizes—12-pl color drops and 18-pl black drops—enabling HP Enhanced Color Layering Technology to achieve the smooth color transitions expected of high-fidelity, large format printing.
Reliable, cost-effective
Value packs include ink cartridge, printhead and cleaner-for added savings and convenience.
Modular ink delivery system allows for efficient, economical replacement of individual ink cartridges. The 680-ml cartridges are designed for fast printing, very efficient usage and reliable, time-saving operation.
HP offers the best service and reliability in the printer industry, receiving a #1 ranking in PC Magazine (August 2002) in its annual service and reliability survey for the 11th year in a row, as well as an A+ grade the first time this grade was included.
An industry-leader in research and development, design, manufacturing and testing processes ensures maximum uptime. Every HP ink formulation is tested for quality and reliability on at least 80 attributes. Innovative, specialized manufacturing analysis tools assess performance and reliability.
Easy to use
HP Smart printing technology[4] in the system of HP DesignJet printer and supplies provides ongoing status feedback on ink levels and facilitates re-ordering over the Internet.[5]
HP DesignJet printing system design makes supplies simple to install, and confirms genuine HP supplies have been correctly installed. And HP provides a take-back program for easy environmentally-conscious return.[4]
[1] Near-continuous tones achieved at 600 dpi resolution.
[2] Fade resistance claim is based on HP 83 UV inks together with the following HP printing material: HP Durable Image Gloss UV, HP Studio Canvas, and HP Heavyweight Coated Paper, in independent testing conducted by Wilhelm Imaging Research, Inc. according to Wilhelm methodology.
[3] HP achieves "instant dry time for immediate lamination" using HP Productivity Gloss media and HP Premium Coated and Heavyweight Coated printing material.
[4] Using genuine HP supplies ensures availability of all HP printing features.
[5] Program availability varies by region/printer.