HP 789 775-ml Magenta Latex DesignJet Ink Cartridge Features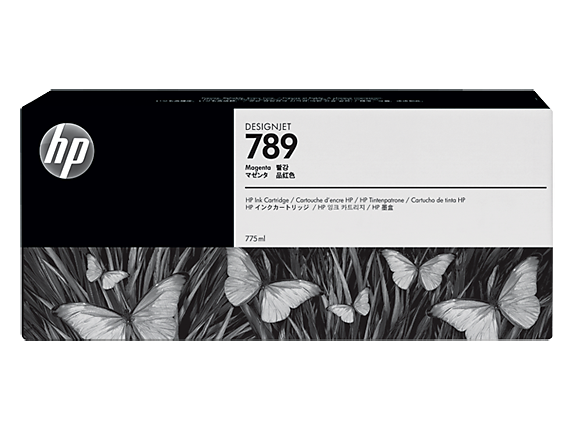 Maintain operational efficiency
High-quality, consistent results are designed into HP Latex Inks. These inks produce high-resolution images across a wide range of outdoor and indoor applications and are specifically engineered together with HP 789 Designjet Printheads to deliver consistent results with every print. These water-based inks are formulated to optimize and maintain printhead performance, even cleaning critical surface components to prevent nozzles from clogging.
Eliminate steps from the workflow and improve your turnaround time. HP Latex Inks are completely dried inside the printer to form a durable film on the print medium. Durability is comparable to eco-solvent inks.[1] Prints come off the printer dry and odorless[2] and ready-to-use, finish, and prepare for shipping or display.
Consistent, high-quality results keep your workflow running smoothly. To ensure you get high-resolution image quality every time you print, intelligent printing system technology is built into HP 789 Latex Designjet Ink Cartridges, HP 789 Designjet Printheads and your printer. Interactive communication enables automatic and continuous adjustments that optimize print quality and reliability for easy, reliable, low-maintenance printing.
Keep interruptions for changing cartridges to a minimum. Original HP 789 775-ml Latex Designjet Ink Cartridges are designed for high-quality, productive printing. Change only the cartridge that needs to be replaced, and keep productivity high with individual 775-ml ink cartridges.
Offer more with a wide array of applications
Expand your offering with the HP media portfolio. HP offers a diverse yet select set of substrates designed together with HP Latex Inks for optimal image quality and performance. Offer emerging applications like interior wall murals and outdoor vehicle wraps. Look to the HP printing materials portfolio—from low-cost, uncoated media to a range of banner, self-adhesive, fabric, paper, mesh and specialty options—to expand your offering.
Optimize for quality, application, or cost. Select from a wide range of media and expect image quality, display permanence, and durability comparable to eco-solvent inks.[1] The HP Latex Ink formulation includes latex particles that bond to the surface of both non-absorbent, uncoated media (like vinyl) and absorbent, coated media for broad application versatility. HP Latex Inks achieve the optimum in high-quality, consistent performance on Original HP media—designed together with HP Latex Inks.
Assure your customers the output will perform for the duration of the campaign. Outdoor prints produced with HP Latex Inks on a range of media achieve display permanence up to 3 years unlaminated, up to 5 years laminated.[1] In addition, prints produced with HP Latex Inks are compatible with most eco-solvent compatible media and are expected to achieve good image quality and display permanence.
Looking for options that reduce your impact of printing on the environment? Water-based HP Latex Inks achieve scratch, smudge, and water resistance (on water-resistant media) comparable to eco-solvent inks[1], but there are no special ventilation requirements[5], enabling an improved work environment.
Make your point of differentiation clear
HP makes it easy to recycle Original HP 789 Latex Designjet Ink Cartridges. Approximately 30 percent of the weight of the ink cartridge container is recycled plastic. Return HP 789 cartridges through the HP Planet Partners program—a free, convenient and industry-leading return and recycling program. Check your cartridge box or visit http://www.hp.com/recycle for details.[7]
Offer an easy recycling option. With the HP Large-format Media take-back program[3], customers simply pack up the used media and follow the instructions available at http://www.hp.com/recycle. HP picks up the shipping expense and handles sorting and recycling. We're all partners in working together to reduce the impact of printing on the environment.
Provide your printshop employees with peace-of-mind. Non-flammable, non-combustible[6] HP Latex Inks don't have hazard warning labels, do not produce ozone emissions during printing, contain no HAPs (hazardous air pollutants) or sensitizers[4], and comply with Nordic Swan criteria, version 4.2. No special ventilation is required.[5]
Print graphics and signage with zero HAPs (hazardous air pollutants) HP Latex Inks.[4] Because these inks are non-flammable, non-combustible,[6] and do not require hazard warning labels, you may reduce your waste disposal costs and storage and handling challenges. No special ventilation equipment[5] or external dryer requirement helps keep energy costs down.
[1] HP image permanence and scratch, smudge, and water resistance estimates by HP Image Permanence Lab. Outdoor display permanence tested according to SAE J2527 using HP Latex and eco-solvent ink on a range of media, including HP media; in a vertical display orientation in simulated nominal outdoor display conditions for select high and low climates, including exposure to direct sunlight and water; performance may vary as environmental conditions change. Scratch, smudge, and water resistance tested using HP Latex and eco-solvent inks on a wide range of media, including HP media; water resistance is comparable when printed on water-resistant substrates. Laminated display permanence using GBC clear gloss 1.7-mil hot laminate. Results may vary based on specific media performance and scratch testing methodology. For more information, see http://www.hp.com/go/supplies/printpermanence.
[2] Printers using HP Latex Inks use internal heaters to dry and cure the latex polymer film. Some substrates may have inherent odor.
[3] HP offers the HP Large-format Media take-back program in the U.S. and Europe, through which most HP recyclable signage media can be returned, availability varies. Some recyclable papers can be recycled through commonly available recycling programs. For details visit http://www.hp.com/recycle. Aside from this program, recycling opportunities for these products are currently only available in limited areas. Customers should consult local recycling resources for recycling these products.
[4] No ozone products expected based on ink composition and printing technology. The inks were tested for Hazardous Air Pollutants per U.S. Environmental Protection Agency Method 311 (testing conducted in 2008) and none were detected. HAPs are air pollutants which are not covered by ambient air quality standards but which, as defined in the Clean Air Act, may present a threat of adverse human health effects or adverse environmental effects.
[5] Special ventilation is not required to meet US OSHA requirements on occupational exposure to VOCs from HP Latex Inks. Special ventilation equipment installation is at the discretion of the customer—no specific HP recommendation is intended. Typically no air discharge permitting required with HP Latex Inks. Customers should consult state and local requirements and regulations.
[6] HP water-based Latex Inks are not classified as flammable or combustible liquids under the USDOT or international transportation regulations. These materials have been tested per the Pensky-Martins Closed Cup method and the flash point is greater than 110° C.
[7] In the circa 45 countries and territories in which the HP Planet Partners program operates. Program features and availability varies. Where this program is not available, and for other consumables not included in the program, consult the Material Safety Data Sheet (MSDS) available at http://www.hp.com/go/ecodata to determine appropriate disposal.