HP 792 775-ml Magenta Latex Ink Cartridge Features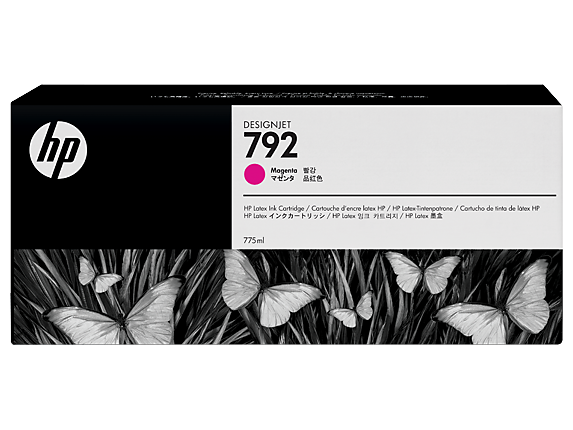 Expand your signage offering
Choose from a broad range of HP and third-party materials. HP media is designed together with HP Latex Inks for optimal image quality and performance, see http://www.hp.com/go/LFPrintingMaterials. See examples of third-party options at http://www.hp.com/go/latexmediafinder.
Expand your soft signage offering.[1] With HP Latex Inks, print on a wide range of coated and uncoated materials, as well as materials used with dye-sublimation technology. And with the latest generation of HP Latex Inks, offer improved durability outdoors.[9]
Assure your customers of lasting performance. HP Latex Ink prints on a range of media achieve display permanence outdoors up to 3 years unlaminated, up to 5 years laminated;[3] indoor in-window up to 5 years unlaminated, up to 10 years laminated.[4]
Meet your clients' needs for sharp, vivid signs—from POP displays to interior decoration. High-resolution, 1200 dpi prints stand up to close inspection. With the latest generation of HP Latex Inks, see rich blacks and glossy results.
Maintain efficiency with easy, productive printing
Eliminate steps from the workflow and improve time to delivery. HP Latex Inks are completely dried inside the printer to form a durable film on the print medium. Prints come out dry and odorless[10]—move right on to lamination, finishing, shipping, or display.
Experience high-quality, consistent results and smooth printing. Water-based HP Latex Inks are formulated to optimize and maintain printhead performance and help prevent nozzles from clogging.
Keep your printing running smoothly. Intelligent technology built into HP 792 ink cartridges, printheads, and the printer enables automatic and continuous adjustments to optimize print quality and printing system reliability for easy, low-maintenance printing.
Keep interruptions for changing cartridges to a minimum. Change only the cartridge that needs to be replaced, and keep productivity high with individual 775-ml ink cartridges.
Make your point of differentiation clear
Provide your printshop employees with peace-of-mind. No special ventilation is required.[6] Non-flammable, non-combustible[12] HP Latex Inks don't have hazard warning labels and contain no Hazardous Air Pollutants (HAPs).[7]
Return your Original HP 792 ink cartridges with no hassle and reduce waste to landfill. Take full advantage of the free, convenient HP Planet Partners return and recycling program.[11] Visit http://www.hp.com/recycle to find out more.
See the list grow. Prints on FSC® certified[13] HP PVC-free Wall Paper are GREENGUARD Children & Schools Certified℠[14] and meet AgBB criteria.[15] The ink cartridges are Eco Mark Certified.[8]
Gain an edge with environmentally conscious customers. When the campaign is over, return prints produced with HP Latex Inks on HP recyclable media through our free, convenient return and recycling program.[5] Your customers can participate too.
[1] For best results, print applications on media that does not let the ink trespass onto the printer. Performance may vary depending on media. Please consult your media supplier for compatibility details.
[2] For best results use media options intended for double-sided printing.
[3] Durability comparison based on testing of representative eco-solvent inks including eco-sol Max inks on Avery SA vinyl for display permanence and scratch, rub/abrasion, and chemical resistance. HP image permanence and scratch, smudge, and water resistance estimates by HP Image Permanence Lab on a range of media including HP printing materials.
[4] Interior in-window display ratings by HP Image Permanence Lab on a range of media including HP printing materials. See http://www.hp.com/go/supplies/printpermanence.
[5] HP Large-format Media take-back program availability varies. Some recyclable HP papers can be recycled through commonly available recycling programs. Recycling programs may not exist in your area. See http//www.globalBMG.com/hp/ecosolutions for details.
[6] Special ventilation equipment (air filtration) is not required to meet U.S. OSHA requirements. Special ventilation equipment installation is at the discretion of the customer—see the Site Preparation Guide for details. Customers should consult state and local requirements and regulations.
[7] HP Latex Inks were tested for Hazardous Air Pollutants, as defined in the Clean Air Act, per U.S. Environmental Protection Agency Method 311 (testing conducted in 2010) and none were detected.
[8] HP 792 Latex DesignJet Ink Cartridges, certification number 11 142 004 by the Eco Mark Office of Japan Environment Association.
[9] The durability with HP 792 Latex DesignJet Inks improves the suitability of HP Latex Inks for soft signage applications. However, HP recommends you test the media before using it for outdoor applications.
[10] Some substrates may have inherent odor.
[11]Visit http://www.hp.com/recycle to see how to participate and for HP Planet Partners program availability; program may not be available in your area. Where this program is not available, consult the Material Safety Data Sheet (MSDS) available at http://www.hp.com/go/ecodata to determine appropriate disposal.
[12] Water-based HP Latex Inks are not classified as flammable or combustible liquids under the USDOT or international transportation regulations. Testing per the Pensky-Martins Closed Cup method demonstrated flash point greater than 110°C.
[13]Trademark license code FSC-C017543
[14]HP PVC-free Wall Paper printed with HP Latex Inks is GREENGUARD Children & Schools Certified.℠ See http://www.greenguard.org.
[15] HP PVC-free Wall Paper printed with HP Latex Inks meets AgBB criteria for health-related evaluation of VOC emissions of indoor building products (see http://www. umweltbundesamt.de/en/topics/health/commissions-working-groups/ausschuss-zur-gesundheitlichen-bewertung-von).