HP 121A Cyan Original LaserJet Toner Cartridge Features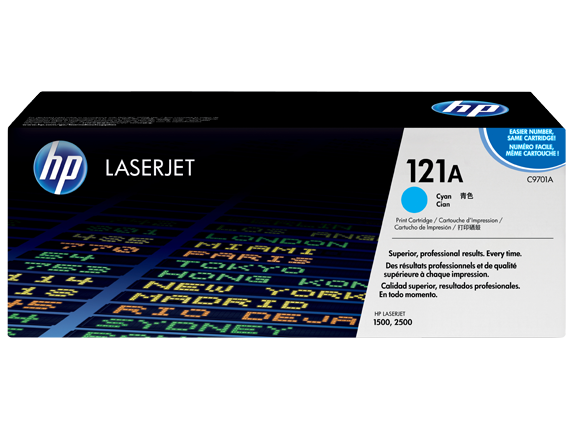 Ease of use
Print system is designed for simple cartridge access—each time a cartridge is depleted, the printer carousel automatically rotates this cartridge to the top position. Design makes supplies simple to install, intuitively assures correct installation, and verifies the presence of a genuine HP toner cartridge. HP Smart Printing supplies features are recognized by the HP printer to enable status monitoring and proactive alert messages.
Smart features include Internet enabled ordering, convenient remote trouble shooting, and improved print job tracking and load balancing. Smart Printing supplies in the system of HP cartridge and HP printer provide information on how many pages/prints remain to ensure successful print job completion and reduce waste. Toner cartridges are shake-free. HP supplies take-back program is available for easy environmental returns.
Print quality
Second-generation, spherical, chemically grown toner in all colors (CMYK) with uniform properties and optimized size enables precise control over toner placement in the printing system. Toner has improved pigments and gloss properties, and formulations in various particle layers designed to optimize printing system results. HP Smart Printing supplies technology enables automatic, ongoing electrophotographic (EP) adjustment of the particle charge throughout cartridge life for color consistency.
Reliable performance
Cost effective
Advanced toner, toner cartridge, imaging drum, printer architecture, Smart Printing components, and color calibration software are precisely matched. Drum, transfer belt, and toner collection drum are combined for easier maintenance. Toner formulation tested to ensure consistently outstanding print quality across a wide range of papers. Ongoing investment in industry-leading research and development, design, manufacturing, and testing processes achieves lower failure rates and maximizes uptime.
Reduced number of supplies reduce complexity and support an affordable color printing solution. High-yield toner cartridges are designed for very efficient usage and reliable, time-saving operation. Professional results on plain papers (no special media required) as well as specialty media. Ongoing investment in industry-leading research and development, design, manufacturing, and testing processes achieve significantly lower failure rates and maximize uptime.