HP Chromebook 14 G5 Features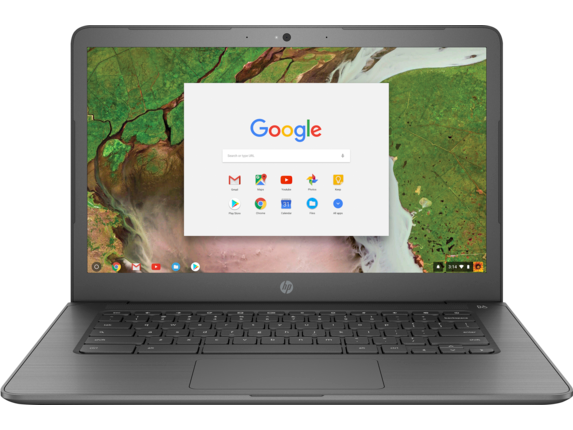 Speed through your day
Quickly launch apps and browse the web, efficiently manage battery life, and get up to a 26% performance improvement[3] with Intel® Celeron® processors[1], memory to 8 GB, and eMMc storage to 64 GB.[4]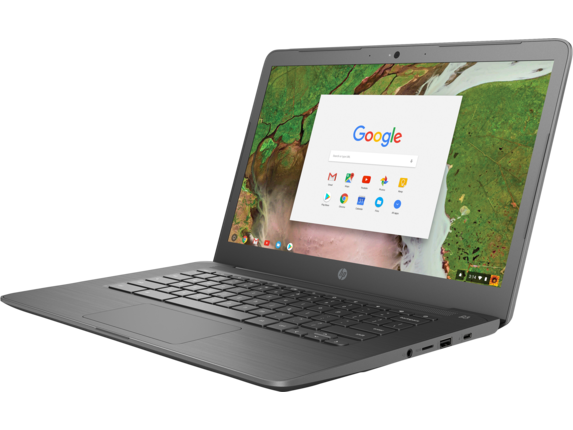 Lighten your load
Meet everyday challenges head on and retain focus with a quiet, lightweight Chromebook™ that has a pick- and minor spill-resistant keyboard and passes MIL-STD 810G testing[5], even at <19mm thin. Stay connected with 2x2 802.11ac[6] wireless.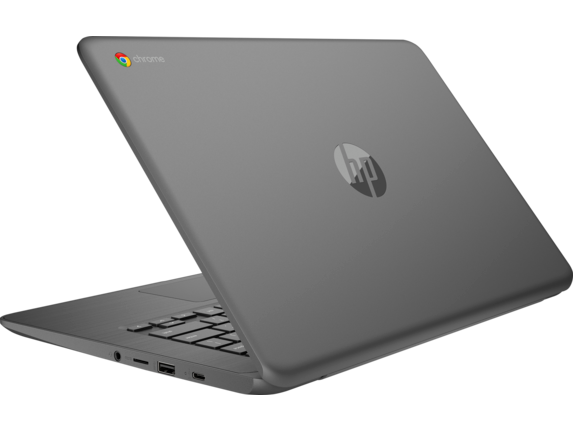 Cleared to collaborate
Collaborate seamlessly with a design that lies flat and has a wide-angle HD webcam and echo-cancelling mic so the whole room can participate. Use the optional[2] backlit keyboard in low light and optional[2] FHD IPS touchscreen with Android™ apps.[7]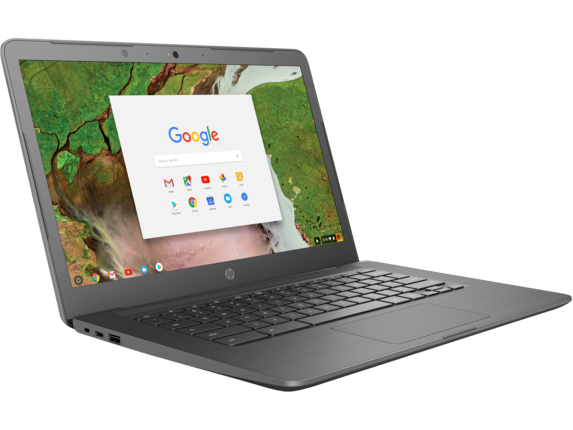 Universal connectivity and charging with USB-C™
Use the USB-C™ port to charge your Chromebook™ and accessories, connect to an optional[2] HP USB-C™ Dock for port and device connectivity or add an optional[2] USB-C™-compatible display for large-screen productivity.
Streamline deployments
Breathe easy with the low-maintenance and highly manageable Chrome OS™, which updates itself automatically[8] and has virus protection built in.
Never slow down
Enjoy the freedom of going wherever your tasks take you with up to 11 hours[9] (HD) or 10 hours[9] (FHD) battery life that allows you to unplug and work at different sites throughout the day.
Choose your experience
Go with an HD or FHD IPS 14" diagonal non-touch for keyboard-heavy inputs, or select the HD or FHD touchscreen[2] for onscreen interactivity with touch-enabled Google Play™ apps.[7]
Pick the right keyboard for your workspace
Help prevent everyday wear and tear and water intrusion with a keyboard that resists picks and minor spills. Choose the optional backlit keyboard[2] for low-light work environments.
Simplify your IT
Easily deploy, manage, and control users, devices and apps on all your HP Chromebooks with Google's optional Chrome Management Console.[2]
Your HP Chromebook is just the beginning
Customize your Chromebook™ with the latest apps, tools, extensions and themes.[7]
[1] Multi-core is designed to improve performance of certain software products. Not all customers or software will necessarily benefit from use of this technology. Performance and clock frequency will vary depending on application workload and your hardware and software configurations. Intel's numbering branding and/or naming is not a measurement of higher performance.
[2] Sold separately or as an optional feature.
[3] Based on HP internal Octane 2.0 testing of 6th Gen Intel® Celeron® 4 GB memory, 16 GB eMMc and 7th Gen Intel® Celeron®, 4 GB memory, 32 GB eMMc.
[4] For storage drives, GB = 1 billion bytes. Actual formatted capacity is less. Up to 5.1 GB is reserved for system recovery software.
[5] MIL-STD testing is not intended to demonstrate fitness for U.S. Department of Defense contract requirements or for military use. Test results are not a guarantee of future performance under these test conditions. Accidental damage requires an optional HP Accidental Damage Protection Care Pack.
[6] The specifications for the 802.11ac WLAN are draft specifications and are not final. If the final specifications differ from the draft specifications, it may affect the ability of the notebook to communicate with other 802.11ac WLAN devices.
[7] Internet access required and sold separately. Some apps may require purchase.
[8] Internet access required and sold separately.
[9] Testing conducted by HP using Google Chrome OS power_LoadTest. Battery life will vary and the maximum capacity of the battery will naturally decrease with time and usage. See http://www.chromium.org/chromium-os/testing/power-testing for test details.