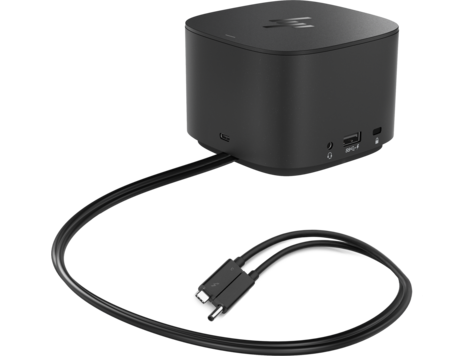 HP Thunderbolt Dock G2 with Combo Cable
(3TR87UT)
This item was added to the cart
Special offer:
Special offers:
Overview
Reinvent docking and boost productivity with our most versatile Thunderbolt™ dock, the small, sophisticated HP Thunderbolt Dock G2 with network manageability[1], USB-C™[2] device connectivity, and optional integrated audio.[3]
Features
Reclaim your work area with this space-saving centerpiece that helps create a clean desk. Its elegant, black, rounded design with smooth accents changes everything you thought you knew about docks.
See every color and detail of your projects with a superfast connection to dual external 4K displays6 as soon as you plug your notebook into the dock.
Compatible with HP Elite x2 1012 G1; HP Elite x2 1012 G2; HP Pro x2 612 G2; HP EliteBook Folio G1; HP EliteBook x360 1030 G2; HP EliteBook x360 1020 G2; HP EliteBook 1040 G4; HP EliteBook 800 G5; HP EliteBook 700 G5; HP ProBook 600 G4; HP ProBook 400 G5; ZBook 14u G5; ZBook 15u G5; HP ZBook 17 G3; HP ZBook 15 G3; HP ZBook 17 G4; HP ZBook 15 G4
Specifications

Weight

1.76 lb (0.8 kg)

Dimensions (W x D x H)

3.9 x 3.9 x 2.7 in (98 x 98 x 69 mm)

What's in the box

:

HP Thunderbolt Dock G2 with Combo Cable; Documentation

Warranty

:

One-year limited warranty.

1 Advanced manageability features such as WoL and MAC Address Pass-Through in all power states supported only on HP Elite x2 1012 G2, HP Pro x2 612 G2, HP EliteBook 1040 G4, HP EliteBook x360 1020, 1030 G2, 800 G5, 700 G5, 600 G4, 400 G5, and G4 HP Mobile Workstations as of January 17th, 2018.

2 Notebooks must be able to support USB-C™ power, video, and USB-C™ and Thunderbolt™ industry standards.

3 HP TB Dock Audio Module sold separately and required for audio.

4 USB-C™ notebook charging up to 100 watts supported through single USB-C™ cable. Combo cable, included on select models or sold separately, required to support both notebooks up to 100 watts and mobile workstations up to 200 watts.

5 Internet access required and sold separately.