HP Scitex XP2500 Industrial Printer Features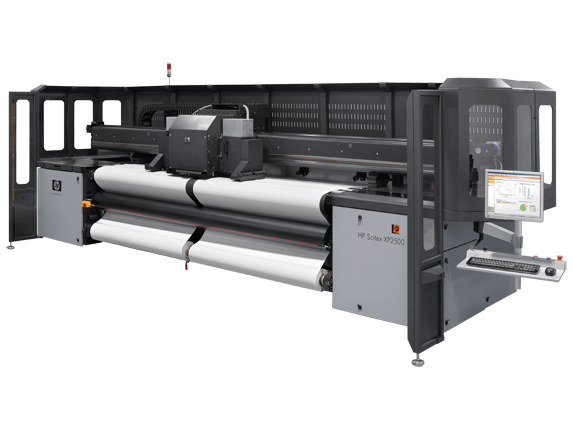 Minimize your ink, media, and operator expenses and increase profitability. Cost-effective HP Specialty Billboard Scitex Ink and the ability to print on inexpensive media reduces your running costs. Enjoy a low cost per m²/ft² at top print speeds.
Select one of the billboard modes that use HP Specialty Billboard Scitex Ink and deliver high ink coverage up to 207 m² (2220 ft²) per liter[2]. This specially formulated ink provides media versatility and operational efficiency for outdoor applications.
The initial hardware purchase price is a small part of the total cost of ownership. The HP Scitex XP2500 Industrial Printer prints on inexpensive media such as polyethylene media that is typically available in 3.2 m (10.5 ft) rolls and is perfect for this printer.[3]
With increased throughput, you can produce more in less time using a single productive printer, saving floor space and operator costs and reducing the number of shifts required for your 24/7 business.
Experience greater production efficiency and fast turnaround time while saving on labor costs with easy-to-use vertical cutters. Cut media accurately and save an estimated 165 minutes of labor time when you print for one hour at 265 m²/hr (2855 ft²/hr).[5]
Increase workflow efficiencies. HP Printop II software automates tasks and reduces operator errors. This printer is also HP Scitex Print Care-enabled to help maximize uptime.
Improve your business's efficiency and save time with Hot Folder and Job Ticket. Hot Folder copies RIPed print jobs to the print queue or job storage automatically. Job Ticket defines and saves print job settings, then applies them to future print jobs.
Work with an HP technician[4] for remote maintenance assistance, use guided maintenance instructions, access your maintenance history. With HP Scitex Print Care, you get a range of fast, efficient, accurate tools and services that help you maximize uptime
Designed for high-speed environments, the HP Scitex XP2500 Industrial Printer lets you print a range of applications, including outdoor. Get the most from your printer by printing up to 265 m²/hr (2850 ft²/hr) in Billboard Mode using HP Specialty Billboard Scitex Ink.
Let the printer do the work for you. The Head Carriage Auto Elevator automatically adjusts the head carriage after each printing. And the HP XP2500 Shutters Control Kit fine tunes your glossy prints, so you get just the look you want.[6]
Depend on this versatile, industry-renowned product that's designed to support 24/7 production environments. New billboard modes offer greater flexibility and productivity. This printer is also HP Scitex Print Care-enabled to help maximize uptime.
Experience greater versatility and productivity with new billboard modes. With two sets of Original HP Scitex inks and a media range from low-cost to high-end, this printer enables improved printing flexibility for your outdoor and indoor applications.
Offer high margin applications using the optional double-sided printing kit as well as the integrated mesh kit for building cover applications. Deliver projects with matte or gloss finish, using just one ink.
Built on the proven success of the HP Scitex XP Printer series, the HP Scitex XP2500 Industrial Printer combines both high speed and high productivity.
[1]Optional. Must be ordered separately.
[2]Based on internal HP testing. Actual results and testing methods may vary. Tested on 100% cover file at BB265 mode.
[3]For further information on certified media substrates, please visit: http://www.hp.com
[4]The remote HP technician may work directly with your operator, or with your HP Authorized Channel Partner.
[5]When printing three images simultaneously, assuming 30 seconds to cut 1 meter (3.2 ft) manually.
[6]Print quality may vary depending on media type and print mode.